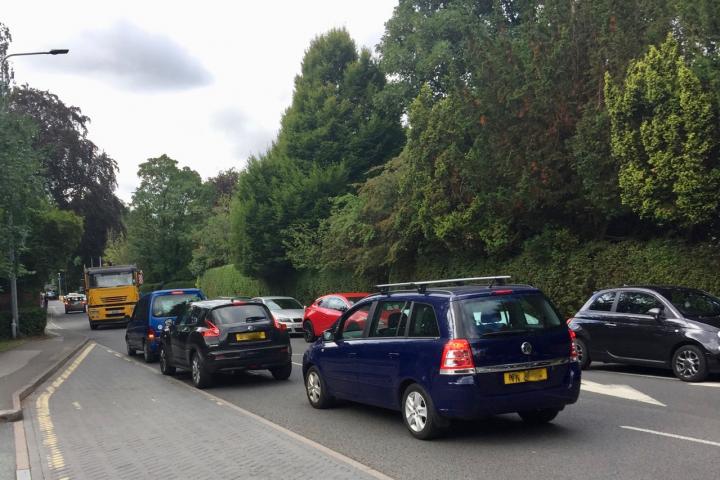 Wilmslow has a thriving business sector with greater levels of employment plus a very busy railway station that attracts people from out of the immediate area.
Unfortunately, inconsiderate parking by incoming workers and rail commuters is causing difficulties for other motorists and proving a nuisance in residential areas. The lack of sufficient off-street space for all day parking is evident.
It is obvious to all of us who have been attempting to provide solutions – particularly those that reduce nuisance parking in residential areas – that measures have simply moved the problem elsewhere. Those residents who over the years have requested and secured restrictions in their areas are content but not so the residents in the newer on-street parking areas.
Adequate levels of all day parking in Wilmslow can be provided only by a multi-storey car park. This cannot address the immediate term so we are actively pursuing other options.
We are looking for a tract or tracts of land within walking distance of the town centre. The obvious ones are owned by Cheshire East and the request is already in to see if there are any legal reasons against using the sites for temporary car parking of say 200/300 vehicles. Candidate sites are the Carnival Fields, the land south of the Prestbury Link Road near the High School and the land adjacent to the A34 south of the High School. Residents will have their own views on the suitability of such sites and there would have to be temporary hard standing so there must be a public survey on any favoured option. Sites for a potential 'park and ride' are the Jim Everson playing fields car park and the Handforth East site.
The Wilmslow parking survey of both on-street and off-street activity will start mid-September. We are pressing for the results and report this Autumn and then want action as soon as the traffic regulation order legal process allows. This is frustrating for everyone involved.
After protracted discussions with the police, a motorist advice and enforcement exercise will be conducted this month. The Police will be making their own announcement of the timing of this exercise. In addition, we have contacted the office of the Police and Crime Commissioner and we await a date when he will be visiting Wilmslow. We can then demonstrate the difficulties of obstruction on the highway on the one hand and the inconvenience to residents in a wider area. We will give top priority to the pressing problem we all want resolved namely the parking in Alderley Road that most reasonable people would describe as obstructive.
When it comes to the implementation of the measures agreed it will need a concerted effort by all agencies to get the on-street parkers to use the off-street facilities. Currently they have free parking and no incentive to change their behaviour.
This is a guest post by Councillor Rod Menlove.