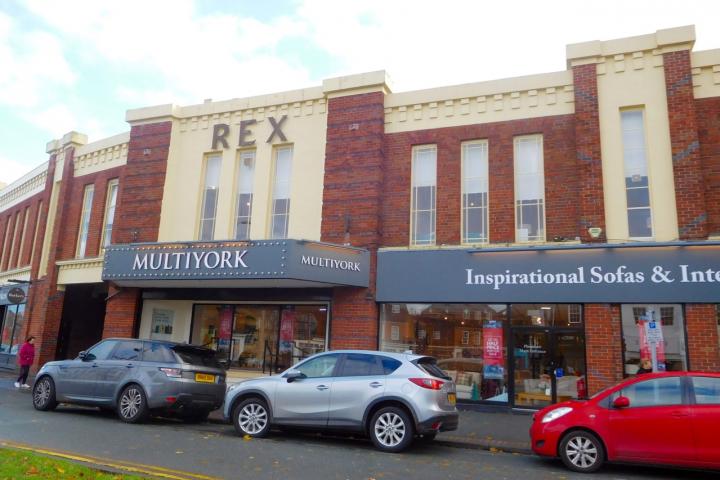 We are delighted to report that The Rex is going to re-open in the near future to bring cinema and much more back to the heart of Wilmslow.
Following last year's announcement that Multiyork has gone into administration, local residents took to social media to call for the Rex building to be turned back into a cinema.
Sophie Taylor set up the Rex Revival Group, which attracted nearly 4000 members, whilst Wilmslow Town Council responded by entering into discussions with resident's groups, potential commercial partners and property agents regarding The Rex building and its potential as a cinema, arts and community space.
Work has already begun to turn the building into a two screen luxury, boutique, independent cinema by a family of film enthusiasts who refurbished and opened the Savoy cinema in Heaton Moor in 2015.
Amanda Mundin and her two sons have rejuvenated three cinemas in small towns, restoring them to become an important asset at the heart of the community.
Amanda Mundin started by rescuing the small independent Ritz cinema in the Derbyshire town Belper. Her son Jacob and his wife now run the Regal cinema in Melton Mowbray, whilst her youngest son Louis runs the Savoy cinema in Heaton Moor with his fiancee.
The Rex will offer the latest Hollywood blockbusters and independent films as well as thought provoking documentaries and weekend matinees for the family.
Additionally there will be special senior screenings, cult films and classics as well as live satellite broadcasts from the National Theatre, Royal Shakespeare Company, Royal Opera House, Bolshoi Ballet and world class concerts from around the globe.
The refurbishment includes the installation of a lift to the new foyer and bar area, allowing access for wheelchair users, a hearing loop and audio description will also be available. Whilst in the foyer cafe bar =film books and magazines will be available to flick through over coffee or wine.In addition to a fully stocked bar, all the usual cinema treats will be available.
Whilst it is too early to announce an opening date, the family said "We are eternally grateful to the Rex Revival team who demonstrated the passion for cinema in Wilmslow and allowed us to conduct the lengthy and difficult negotiations with the belief that this new venture will be a huge success - thank you!"
Cllr Angela McPake, Vice-Chairman Wilmslow Town Council, said "From the beginning, local residents have made it clear that they would like to see the Rex reopened and a lot of that interest was focused on the Rex Revival group on Facebook that now has over 4000 members. That has helped the effort to get a cinema back in Wilmslow hugely and I'd like to express our thanks to Sophie and her team."
She added "We are also really grateful to the Mundin family and the Landlords, the Stansby family who have both seen the potential for a cinema in the town and have persevered to get a deal done.
"Membership for the cinema is already available on line and we would encourage anyone who can, to buy membership to help the renovation efforts. We are absolutely delighted that the Rex is coming back."
Sophie Taylor, who set up the Rex Revival Group said "We had our first meeting with the Mundin family back in February at The Savoy in Heaton Moor, a cinema that I had followed the restoration of. Straight away, we could see that they were the right people to take on the Rex. We were impressed by their passion and enthusiasm to lovingly create quality cinema experiences.
"Since then, they have kept us up-to-date on their progress, whilst we have tried to build up local support for the return of the Rex. The encouragement and excitement shown by the local people has been overwhelming, and at times it has been very difficult to keep developments under wraps, but we did it! We would like to give our heartfelt thanks to those who have shown their support during the campaign."
She added "Whilst I have led the campaign, it really has been a team effort: it would not have been a success without the rest of the 'Core Team', which consists of Chris McClory, Ian Illingworth, Heloise Graham, Tony Nicholls, Pete McClory and Lizzie Wilson. Their skills, knowledge, enthusiasm and support have been immense."
The Rex building, one of our few Art Deco buildings in Wilmslow, was originally built as a cinema in 1936. It later diversified and was used for both professional and amateur theatre productions, as well as movies.
Alan Cooper of Wilmslow History Society told wilmslow.co.uk "It was actually often a testing ground for productions before they went to the West End. Stars like Susannah York, Denholm Elliot, Peter O'Toole, David Jason were on stage here.
"Interestingly it was the scene of some controversy when Oswald Mosley held a rally there on 5th November 1939 leading to some disturbances outside the cinema!"
Tags: