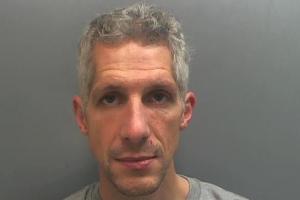 An inspector from Greater Manchester Police who was convicted of murdering his detective wife has been sacked.
Darren McKie from Wilmslow, who did not attend the special case hearing on Wednesday, 22nd August, was dismissed without notice as a result of him being convicted of the murder of his wife Leanne.
McKie was sentenced to life in prison in March 2018 for the murder which took place in Wilmslow in September 2017. He will serve a minimum of 19 years before being considered for release.
Speaking after the hearing, Chief Constable Ian Hopkins said: "The breach of standards committed by Darren McKie has damaged the reputation of GMP and undermined public confidence in the police service. His appalling actions led to the tragic loss of life of a mother, daughter and serving GMP officer. The impact on Leanne's parents and three young children will stay with them for the rest of their lives.
"Her loss is still felt by her former colleagues and we will continue to provide support to them and Leanne's loved ones should they need anything."
Leanne McKie, 39, was found dead at Poynton Lake in the early hours of Friday 29th September 2017.
McKie and his wife Leanne, who worked as a Detective Constable for Greater Manchester Police, lived on Burford Close in Wilmslow with their three young children.
On the day of her death Leanne had discovered that her husband had applied for a loan in her name.
McKie left his office in Manchester without explanation, arriving home around midday and an argument is believed to have broken out between the pair, during which he strangled Leanne.
McKie put Leanne's body in her red mini and moved it to a nearby road then continued his day as normal, collecting the children from school and taking them to various activities. After putting his three children to bed McKie drove to Poynton and dumped Leanne's body near to the lake then walked home.
During the investigation officers uncovered financial evidence which showed that McKie had been applying for multiple loans and credit cards on his work computer without Leanne's knowledge. At the time of her death the couple's debt totalled more than £100,000 on top of their £300,000 mortgage.
Darren McKie will be placed on the National College of Policing barred list which will prohibit him from working for any law enforcement agency in the future.