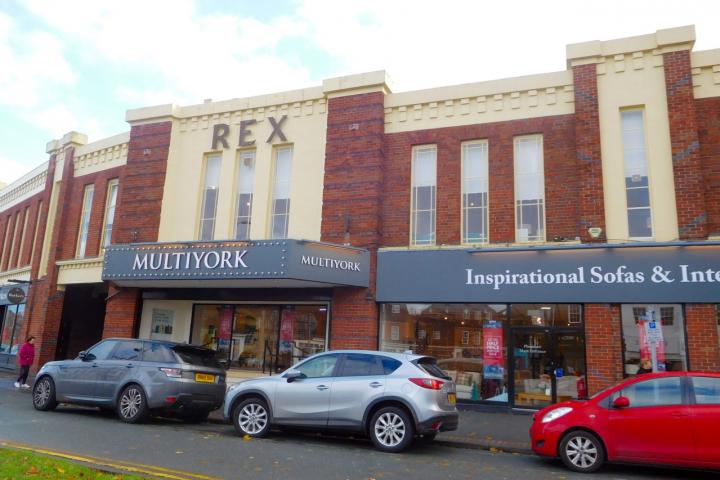 A campaign to bring the Rex cinema back to Wilmslow is gathering momentum with negotiations between an independent cinema company and the landlords having now been finalised.
Asa result workmen were inside the Rex building this week and the legal documents are currently being prepared for signing in the near future.
Following last year's announcement that Multiyork has gone into administration, local residents took to social media to call for the Rex building to be turned back into a cinema. Wilmslow Town Council responded by entering into discussions with resident's groups, potential commercial partners and property agents regarding The Rex building and its potential as a cinema, arts and community space.
The Rex building, one of our few Art Deco buildings in Wilmslow, was originally built as a cinema in 1936. It later diversified and was used for both professional and amateur theatre productions, as well as movies.
Sophie Taylor, who set up the Rex Revival Group to try and resurrect the Rex, told wilmslow.co.uk "It is hard to believe that, at the start of this year, the Rex Revival Group did not exist. Now, it has over 3,800 members, has been mentioned in several publications, featured on BBC Radio Manchester and, most importantly, brought the local community together in support of the return of Rex cinema.
"There is an atmosphere of excitement around the town, revolving around the cinema and what could lie in store. It is rare for a day to pass without someone asking me about it!"
Cllr Angela McPake , Vice-Chairman Wilmslow Town Council tweeted "The lease has taken a while- been worse than waiting for Christmas! Have had fingers crossed for so long not sure they will uncross but will be brilliant for Wilmslow."
She added "The work currently being undertaken is the removal of the asbestos from the building by the landlord. As we understand it, the negotiation is complete and the lease just needs signing. I was going for this week but that might be wishful thinking!"
Sophie Taylor added "I would like to thank everyone who has contributed so far. The Rex Revival Core Team - a small, entrusted group of people who I recruited to help me after they conveyed great passion about the return of the Rex cinema at the start of the campaign - have been fundamental to the group's success. Their wide array of skills, knowledge and experience - from architectural design, videography talents, networking abilities and interview skills to property leasing knowledge - has contributed to kick-starting the campaign, maintaining the momentum and gaining immense support from the local people.
"Similarly, the backing of Wilmslow Town Council, particularly Matthew Jackson and Angela McPake, has been invaluable in raising the profile of the project and giving it impetus. Last but by no means least, the Rex Revival Group members and local community have been crucial as they have illustrated just how much the return of the Rex cinema is wanted and needed."
Tags: