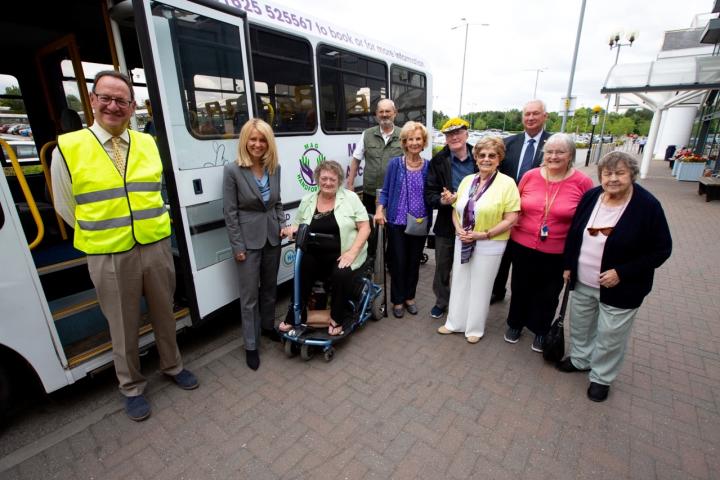 A community bus started to ensure disabled and elderly people in Handforth can get out and about at weekends is now up and running.
The Mobility and Access Group (MAG) are offering a free pick up scheme which will allow people to go shopping, visit people in hospital or see friends they may otherwise not be able to due to lack of weekend public transport.
Volunteer drivers have now been trained and the refurbishment of the bus, given to the group by Cheshire East Council, is complete.
The bus seats 14 people and came equipped with a Tail-Lift for wheelchair or scooter users and has been refurbished with funding from sponsors, local businesses and the general public. The group is now a registered charity.
The MAGBUS is a free service to take elderly and disabled residents shopping to Handforth Dean, Wythenshawe and Stockport on a weekly basis, picking up at Oakmere, Spath Lane, The Paddock, Knowle Park and the Lakes Estate. Whilst special arrangements can be made for the more vulnerable people to be picked up nearer their homes.
The MAGBUS will also be available on Sundays to take residents to visit relatives and friends at Wythenshawe Hospital.
MAG trustee Mrs Beryl Chapman said "W are also funding monthly social occasions to Llandudno, Chatsworth House, theatres, markets, cathedrals and Mary Sunley Barge trips to name a few."
She added "Unfortunately we are unable to hire the Bus out at this time due to excessive demand, but this will be reviewed after our first year.
Tatton MP Esther McVey, who attended the launch of the community bus scheme at Handforth Dean, said: "This will make such a difference to residents who are unable to get out either because they have no local bus or it doesn't run when they need it. We have such fantastic people in our community who care for others and want to help, not only MAG who are behind the scheme but all the volunteer drivers that are going to make it possible.
"I will be volunteering too but first I want to practice driving the bus passenger free and then I will be ready."
There is a meeting in Oakmere on Friday 13th July at 10am to discuss future events, local residents are invited to go along and share your ideas as your input is important to the group. Refreshments will be served.
For more information contact MAG trustee Mrs Beryl Chapman on 01625 525567.
Photo: Ian Hollis one of the drivers (high viz jacket), Esther McVey and Beryl Chapman at the launch.