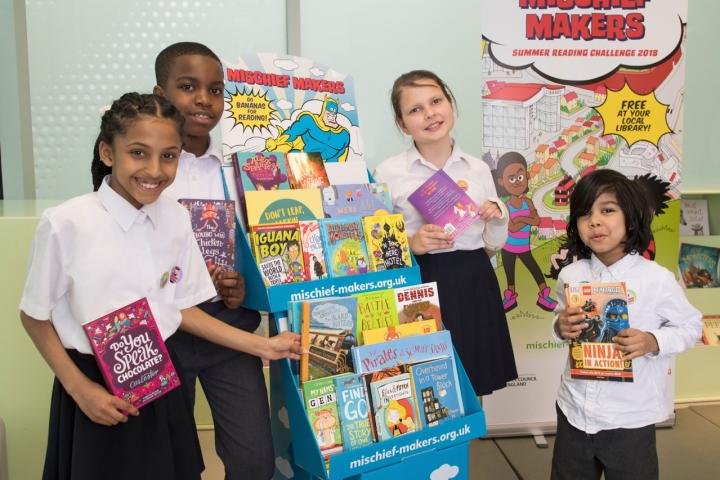 Wilmslow Library is launching the annual Summer Reading Challenge a week early this year to coincide with the scarecrow festival parade.
The Rotary Club Wilmslow Scarecrow Festival Parade will be taking place on Saturday 30th June and many children will be gathering at the library in preparation for this event. As well as signing up for the Summer Reading Challenge, children will be able to make their own Beano badge to wear in the parade and there will be a prize for the best badge.
Librarian Marg Charlesworth said "The theme of the Summer Reading Challenge 2018 is 'Mischief Makers' which celebrates the 80th anniversary of the Beano. We have been working together with the Rotary Club who have kindly chosen the Scarecrow Festival theme as characters from children's comics, TV or films."
The Summer Reading Challenge runs every year during the long summer holidays encouraging children to read any six library books of their choice and collect stickers and incentives along the way to encourage them to keep going. This year the stickers contain clues to help the children to find the hidden treasure on their special Beanotown map!
Wilmslow Library will be open from 9am to 1pm on Saturday 30th June and children can sign up for the Summer Reading Challenge any time from that morning onwards.
Marg added Last year we had over 650 children taking part at Wilmslow Library alone. We have once more been fortunate to receive funding from Wilmslow Town Council which enables us to subsidise a series of exciting events running alongside the Summer Reading Challenge and provide the extra incentives for the children.
"We are also grateful to the Year 9 students at Wilmslow High School who have provided some beautiful art work inspired by the Beano which will be on display in Wilmslow and Handforth Libraries over the summer."
The Summer Reading Challenge will be starting as usual in other Cheshire East Libraries on Saturday 7th July.
Tags: