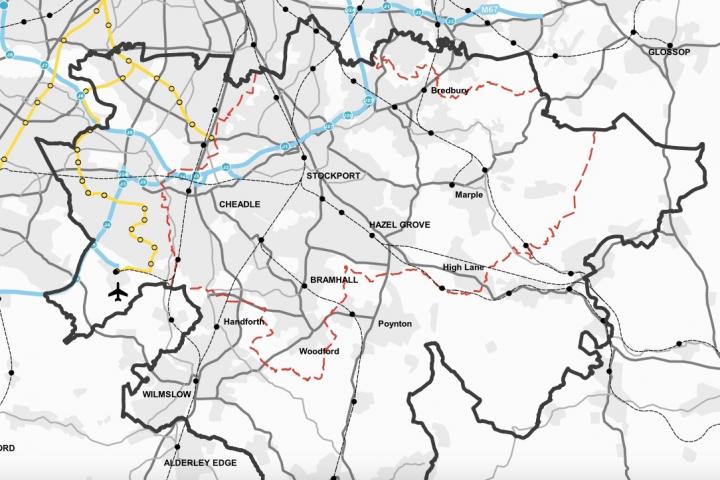 A new bus service linking Wilmslow to Manchester Airpot and East Didsbury could be introduced to improve transport across north Cheshire, Stockport and south east Manchester, through their SEMMM strategy (South East Manchester Multi-Modal Strategy).
In order to improve transport networks the (SEMMM) Strategy, which was approved in 2001, is being updated to identify transport priorities across south east Manchester until 2040.
The new strategy, which is subject to a consultation until Monday 2nd July, sets out a range of projects to improve public transport, as well as road, walking and cycle links.
Amongst the recommendations is a new Bus Rapid Transit (BRT) service which would operate routes from Wilmslow to Manchester Airport and Wilmslow to East Didsbury Metrolink.
The Strategy recommends three new Bus Rapid Transit (BRT) services. These would broadly operate:
• Stockport - Hazel Grove - Bramhall - Woodford - Handforth - Stanley Green – Heald Green – Manchester Airport.
• Wilmslow - Handforth - Stanley Green – Heald Green – Manchester Airport
• Wilmslow - Handforth - - Stanley Green - Cheadle - East Didsbury Metrolink stop.
The detail of these routes is currently being developed through a study commissioned by TfGM along with local authorities. It is hoped that the Wilmslow services could also have the potential to be extended to Macclesfield in the future.
To support the effective operation of these services, it is recommended that new bus priority is introduced in the following areas:
• New offline bus only link between Woodford and Handforth.
• New offline bus only link between Stanley Green and Bruntwood Park.
• On-street bus priority on the A34, northbound from its junctions with Wilmslow Road.
• Bus priority on the southbound A34 slip road at its junctions with Wilmslow Road.
As well as the new BRT service, it is being recommended that the case is developed for new rail stations at Stanley Green and Cheadle.
Whilst recommendations for walking and cycling schemes may include:
• Completing the Wilmslow to Manchester Airport cycle route.
• Local route improvements for access in and around Wilmslow and Macclesfield.
• New routes connecting Alderley Park and Waters to Wilmslow Rail Station.
Whilst the plan looks ahead to 2040, some actions which have been identified as important for development and implementation in the short term, to bring benefits immediately.
These include increasing car parking and park and ride facilities at selected rail stations including Wilmslow, Handforth, Heald Green, Bramhall, Cheadle Hulme, Marple, Gatley and Macclesfield stations.
Other short term projects include improvements to routes in and around Wilmslow - to the rail station, key employment sites and education sites - and the completion of a fully signed Wilmslow to Manchester Airport cycleway, using on and off-street routes.
Whilst each of the projects identified is seen as important, this consultation does not give a green light for work to begin on any of them. Each project will be subject to its own consultation as it progresses and business cases are developed.
Residents are able to have their say online at www.semmms.info or by attending one of the drop-in events that will be running.
Residents and all those interested can find out about both projects at public events being held at Honford Hall in Handforth from 2pm to 7pm on Thursday 31st May and Wilmslow Library from 2pm to 7pm on Wednesday 20th June. Infrastructure and highways planners will be on hand to discuss concerns with visitors.