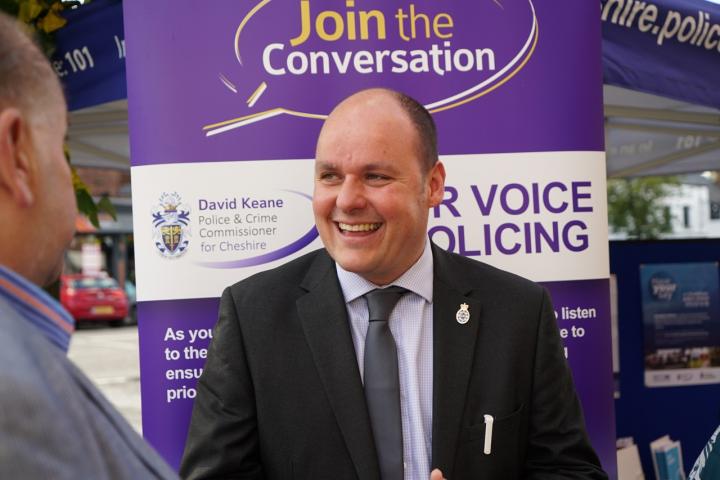 The Police and Crime Commissioner has agreed to provide a named PCSO for each of the 122 geographical communities of Cheshire, which are largely based on council wards, who will be based at an easily accessible community hub.
The proposed community policing bases in each area will include community centres, libraries and village halls where the PCSOs can host regular surgeries. They will also have a private room for meetings between members of the public and officers.
PCSOs will continue to start and finish their shifts and receive briefings from the existing police stations but a key priority for the Police & Crime Commissioner is to ensure that PCSOs spend as much of their working time within their communities as possible. Therefore the community hubs have been allocated on the basis of proximity and accessibility to communities to try and minimise the PCSOs travel time.
Police and Crime Commissioner for Cheshire, David Keane, said: "When I was elected commissioner, I set out my ambitions for the residents of Cheshire to feel more connected with their police force - providing a police base in every community is a major stepping stone to achieving this vision.
"These community bases will be a focal point for local people to make contact with their PCSO, leave messages and attend surgeries. In addition, PCSOs will be able to start their shift at police stations closer to where they work to increase their time working within the community.
"Policing in Cheshire is becoming increasingly diverse so it's vital that officers spend as much time as possible in the communities they serve to tackle emerging and complex issues at their root-cause."
The Dean Row Centre will be the community hub for both Wilmslow Dean Row and Lacey Green; Wilmslow Police Station will be the base for Wilmslow East and Chorley Village Hall will be the one for Wilmslow West and Chorley.
Whilst the Handforth PCSO's community base will be at the Youth Centre on Old Road and PCSO Anna Jenkinson, who covers Alderley Edge and Prestbury, will be based at Alderley Edge Festival Hall on Talbot Road.
Wilmslow and Handforth PCSOs will book on to start their shifts at Wilmslow Police Station, whilst the PCSO based in Alderley Edge and Prestbury will book on at Macclesfield Police Station.
Photo: Police and Crime Commissioner for Cheshire, David Keane.