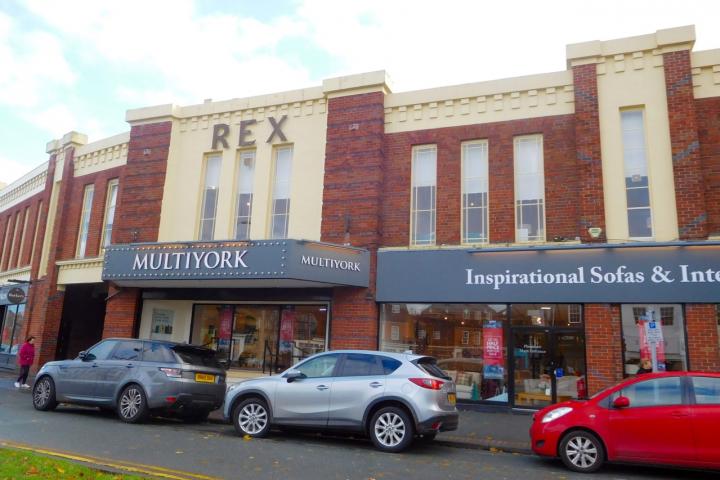 A campaign to bring the Rex cinema back to Wilmslow is gathering momentum with the landlord having reached advanced negotiations with an independent cinema company.
Following last year's announcement that Multiyork has gone into administration, local residents took to social media to call for the Rex building to be turned back into a cinema. Wilmslow Town Council responded by entering into discussions with resident's groups, potential commercial partners and property agents regarding The Rex building and its potential as a cinema, arts and community space.
The Rex building, one of our few Art Deco buildings in Wilmslow, was originally built as a cinema in 1936. It later diversified and was used for both professional and amateur theatre productions, as well as movies.
Sophie Taylor, who set up the Rex Revival Group to try and resurrect the Rex, told wilmslow.co.uk "We are thrilled by the progress being made, and with the cinema company involved. There has been no time frame set for the next stages as yet."
Cllr Angela McPake , Vice-Chairman Wilmslow Town Council said "Wilmslow Town Council is delighted that significant progress is being made in the quest to reopen the Rex Building as a cinema.
The Town Council is fully aware, through the Neighbourhood Plan process of the support within Wilmslow for the Rex Building to reopen as a cinema and in doing so once again become the focal point for the town.
"Having had preliminary conversations with interested parties since before Christmas, the Town Council agreed in February to do what it could to facilitate a return of the cinema and have since worked to encourage commercial interest in the site.
"Should a deal be concluded, as seems likely, then it will be down to the willingness of the landlord and the agent in taking seriously the views expressed by the Rex Revival Group and the Town Council and to the vision of the Cinema operator in investing in our town.
"As town centres find it difficult to retain and encourage retailers it is vital that people are attracted in to Wilmslow during the daytime and in the evening and by bringing a cinema back in to the heart of the town we believe that retailers and restaurants will benefit greatly."
Sophie Taylor added "The number of Rex Revival Group members, which currently stands at around 3,150, shows how huge the demand is for the cinema's return. Many of these members will have visited the Rex in its heyday, but a big proportion did not live in Wilmslow at the time; all are united in their desire to have a cinema on their doorstep.
"Managing the group has highlighted to me the community spirit of the residents of Wilmslow. The excitement, support and encouragement demonstrated so far by the group members is testament to this."
Tags: