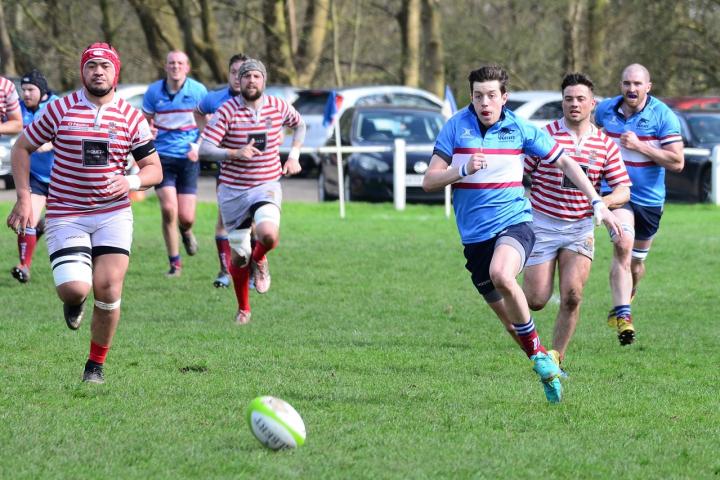 Saturday 14th. April 2018
North 1 West
Wilmslow 34 – 31 Manchester
According to Wilmslow's archivist, Barry Fisher, a man whom you can rely on to know, these two old protagonists first played each other on 16th April 1898. Almost 120 years on, here they were again in front of possibly the largest crowd of the season. A balmy spring sun shone down on the endeavours of the class of 2018 as they shared ten tries between them, being separated only by Bob MacCallum's first minute penalty goal. It was thrilling stuff. Manchester's backs showed some deft touches to score all of their points. In contrast, Wilmslow had a lot to thank their powerful pack for as they eventually wore down their opponents in the final quarter. Trailing 15 – 24, the deficit became a 34 – 24 advantage thanks to three hard earned tries, the last of which put them out of sight with just two minutes left to play. Time enough though for one last hurrah from the visitors but not to leave with the spoils of victory.
In the end both sides got what they wanted. Wilmslow secured the five league points they needed to keep the pressure on Northwich, who unsurprisingly came away from Vale of Lune with nothing. The gap is now down to three points with Wilmslow having a game in hand. Next week, they have an awkward looking fixture away at Carlisle, who banished their own relegation fears at Waterloo on the same day. The week after the Wolves then entertain Vale of Lune. Nine points from these two games would see them finish in second place with a play off against the second placed side in N1E beckoning. It's in their own hands now.
Manchester for their part got the two losing bonus points they needed from their last game of the season to ensure North 1 West rugby next season. On the evidence of this performance and the one they produced back in February against Wilmslow, it's something of a mystery as to quite how they found themselves in this position at all. They led for three of the four quarters in this game and it was only a dull patch in the final quarter that allowed the Wolves in.
Wilmslow, for all the reasons that bedevil an amateur club were missing, several of their first choice players but were fortunate to be able to call up the Kennedy brothers, Johnny the former Sale Shark centre and his brother Danny in the back row. Initially, Johnny looked a bit short of a gallop but he steadied and in the second half he was instrumental in setting up at least two of the Wolves tries. Class will always tell. Danny meanwhile came on as a second half substitute and immediately made his presence felt. Another back row who has visibly grown with game time in recent weeks is Jack Masters. The two Taylor brothers both put in influential shifts as did hooker Alex Donaldson, prop Jordan Ayrey, second row Max Wortley and blindside Seb Pemberton. They're all substantial units so having them bearing down on the opposition all afternoon will take its toll. And then there wasscrum half Sean Street, who has just been on fire in recent weeks, adding another three tries to his tally.
Their opponents though can reflect on playing a full part in what turned out to be an entertaining game. Their No. 8 James Brodie gave as good as he got, No. 10 Richard McCartney varied his play intelligently from releasing his dangerous midfield, where Anthony Tiatia and Zac Round stood out, to some well placed kicks for field position and several exquisitely judged cross kicks for his wingers to catch and run on to.
After MacCallum's opening penalty, Manchester had taken charge to score two tries for a 12-3 lead after just ten minutes play. The first of them came when an indecisive tackle in midfield created space for their right winger Doug Day to run in. This was followed by some enterprising play on the left which led to left winger Joe Houghton cutting inside to score under the posts. At this stage the Wolves defence was at sixes and sevens every time the Manchester backs ran at them. Not for the first time this season, it took some uncompromising forward play from the Wolves to stabilise things and from a pile up on the Manchester line prop Ayrey pulled one back from close range. The Wolves then made a hash of the restart allowing the visitors to plunder the ball. They were initially stopped but recycled left for McCartney to put a long cross kick into Day's arms and the winger out on his own duly ran in unmolested. Just over twenty minutes had been played. The Wolves ground their way back up field. A driving maul looked to have been illegally pulled down but not in referee. Hiney's book and then he disallowed what looked a perfectly sound touchdown by Robert Taylor. This was followed by Wilmslow's Ben Day fielding a kick ahead and makingde ground. Masters took it on from the breakdown and when the ball came inside Kennedy slipped it to Street. Coach Jones reckoned afterwards that the defence was a bit preoccupied with a lurking Robert Taylor, who had made several good runs by then, allowing Street to scorch away for his first try. Wilmslow were again on the attack when Hiney blew for half time.
The early part of the second half was particularly frustrating for Wilmslow as they lost control of the ball on several occasions when a score looked more likely than not. It was slightly against the run of play when good Manchester handling enabled Doug Day to cross for his third of the afternoon. It was only the signal though for Johnny Kennedy to intervene. His first second half line break nearly put Street clear but when he was hauled down a metre short, the ball was quickly recycled. Alex Taylor moved it on to James Coulthurst, who had intelligently come in off his wing into unguarded space, to score. Moments later Kennedy was at it again and this time Street was put clear to put the Wolves in front for the first time. The 'coup d'etat' which had the Wolves out of sight followed quickly. A typically opportunistic short penalty from Street, close to half way, caught the whole of Manchester napping. Even then Manchester got a penalty when Wolves full back Ben Day lost possession in the tackle and from the final play of the game, a scrum on the Wilmslow line, they put centre Zak Round in for their fifth and final score.
Maybe the Wolves should have had it in the bag, long before they did. They had plenty of chances either side of half time but on the day were just not sufficiently clinical. Manchester, on the other hand were just the opposite.
Centre Johnny Kennedy, however, was the talisman whose play got the Wolves back into it when they most needed to. Coach Rick Jones focused on the plus points afterwards, adding that he had always felt that his team had enough in the locker to come back and win it. But, in truth, it was just further confirmation of how little there is to choose between so many of the sides in this season's N1W league.
Photo: Street's Ahead by Nick Jones.
Match report by David Pike.
Tags: