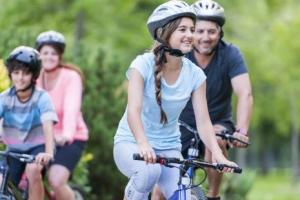 Cheshire East Council has been awarded £500,000 for a new cycling and walking link through Wilmslow which will connect key economic sites and improve access to the Manchester Airport Enterprise Zone.
The project will include upgrading the pedestrian and cycle links between Wilmslow station and the Royal London site to support the delivery of 1500 new jobs. Additionally it will provide of an off road route along the A538 corridor between Wilmslow and key employment sites including Waters and the Manchester Airport Enterprise Zone; and provide an improved direct route from key residential areas to key employment locations including Alderley Park, Waters and Manchester Airport Enterprise Zone.
Cheshire and Warrington Local Enterprise Partnership was awarded £5 million as part of Local Growth Fund (LGF) to fund projects as part of the sub-region's Active Travel Investment Strategy. Local authorities were invited to submit bids, which were received for 8 schemes totalling around £7.5 million.
Following assessment of the bids and discussions with authorities on the scalability of some of the schemes to maximise the outcomes within the available budget, it was decided that the Wilmslow Strategic Cycle and Walking Route be awarded £500,000, rather than the £850,000 bid for.
The distribution of funding distribution will be confirmed by the Cheshire and Warrington Local Enterprise Partnership Board in May.
The other scheme in Cheshire East to benefit from the Local Growth Fund is the Northwest Crewe Cycling and Walking Link which has been allocated £1.1m.
Councillor Don Stockton, Cheshire East Council Cabinet member for environment, said: "This is fantastic news. This £1.6m Local Growth Fund allocation will help the council continue to deliver more-sustainable transport solutions and facilities to help deliver jobs, growth and healthier communities.
"Crucially, these link schemes will improve access and connectivity to thousands of homes and help in the delivery of more than 3,000 new jobs at key employment sites identified in the Cheshire East Local Plan – as well as providing key, 'greener' infrastructure to enhance people's lives.
"Work will be conducted over the coming year to plan and design these schemes for both Wilmslow and Crewe, which will include consultation with stakeholders and the local communities to help shape and inform the projects."
The two cycle and walking schemes are due to be completed by spring 2021.
Tags: