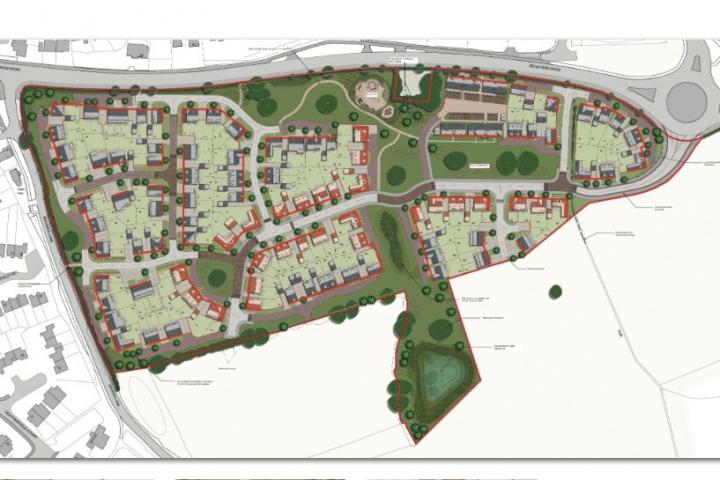 Plans for a residential development at Heathfield Farm, off Dean Row Road, have been approved.
The Strategic Planning Board approved Taylor Wimpey's scheme for 161 homes on the previously undeveloped 6.4 ha greenfield site which was released from the Green Belt following adoption of the Cheshire East Local Plan.
Ten members voted in favour of the plans at their meeting on Wednesday, 28th February, whilst two abstained (Cllr Burkhill and Cllr Hough).
Councillor Toni Fox, who sits on the Strategic Planning Board said "I raised several concerns on behalf of residents and myself in relation to the ridge height and location of the 3 storey apartment blocks fronting directly onto Dean Row Road, current levels of traffic congestion at the Dean Row roundabout, the encroachment onto safeguarded land and requested the installation of air quality monitoring device at the Dean Row roundabout.
"As stated in the report, officers confirmed that they considered the proposals acceptable and air quality monitoring unnecessary.
"I also raised the outstanding highways works to improve the access onto the A34 at Summerfields conditioned as part of the Bollin Park development approval and requested this was implemented prior to any work on this site, should approval be given. Highways officers agreed to chase this up."
Cllr Fox added "As the Independent Ward Councillor for the Dean Row Ward residents may question why I did not abstain or propose a refusal of this application however I have been, and will continue to be, honest, straight and open with the residents I represent.
"An abstention would have been an avoidance of an uncomfortable decision and unfortunately in this case (the third planning application to be submitted locally on sites approved in the Local Plan) none of the concerns were substantive enough in terms of material consideration to support a recommendation to refuse the planning application that would undoubtedly have been lost at appeal."
The development will comprise a range of house types including townhouses, semi-detached, detached houses and apartments. The scheme is for 12 one and 12 two bedroom apartments, which will be affordable, along with 14 two bed affordable semis, 74 three bedroom houses, of which ten will be affordable, 35 four and 14 five bedroom houses.
Wilmslow Town Council recommended refusal of the application due to the use of the safeguarded land and raised concerns regarding the delivery of infrastructure.
Twenty-three letters objecting to the scheme were received, amongst the concerns raised were lack of infrastructure, impact on wildlife, loss of view to the Peak District, increased traffic adding to existing congestion, loss of green space, new buildings should be a maximum of two-storeys, impact on drainage and developments of this size should have more than one entrance.
Work is expected to commence on the development in 2018 and the construction period is likely to last 4 years.
Tags: