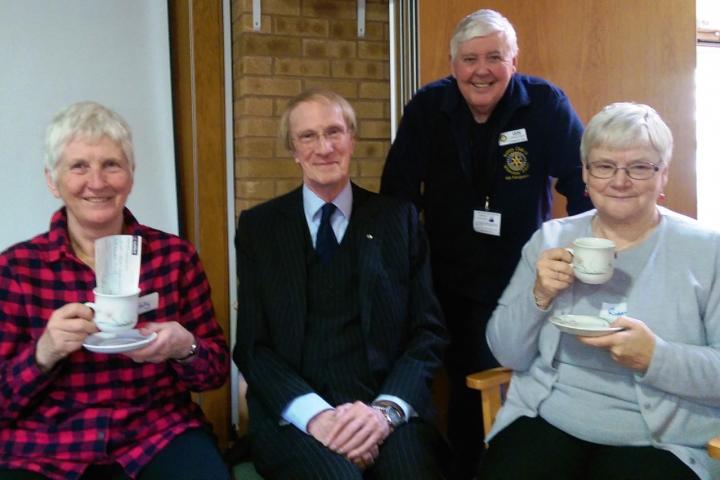 The Wilmslow 'In Together' Dementia Cafe which was launched just over twelve months ago has gone from strength to strength with over 40 people now attending the weekly sessions at Wilmslow Methodist Church.
As a result of this success, and a substantial donation from the Rotary Club of Wilmslow Dean, the support group has recently opened a second facility at St. Mary's Methodist Church on Wilmslow Road, Handforth.
President of the Rotary Club, Frank McCarthy said, "Each year the Club President nominates their own a charity or cause, for their year in office. For me this was easy, the new Dementia Cafe was just starting up in Wilmslow, and here was a cause supported by Churches Together in Wilmslow, designed to help local people and Rotary works hard to support the local community.
"As a new cafe was starting up in Handforth, I was delighted that the Wilmslow cafe has decided to share our £1,000 donation with them."
Both Wilmslow and Hardforth Dementia cafe's welcome donations of books, puzzles, board games, song sheets and any useful aids to stimulate those living with Dementia. Further information is available by contacting: Reverend Katy Thomas on 01625 539 584 or Roberta Garrard on 01625 528569.
The Wilmslow 'In Together' Dementia Cafe takes place every Monday from 2pm to 4pm at Wilmslow Methodist Church on Water Lane.
The Handforth Dementia Cafe is held every Thursday from 2pm to 4pm at St. Mary's Methodist Church on Wilmslow Road.
Photo Caption. (left to right): Sally Mendham, Rotary Club President Frank McCarthy, Rotarian Ian Ferguson and Roberta Garrard.
Tags: