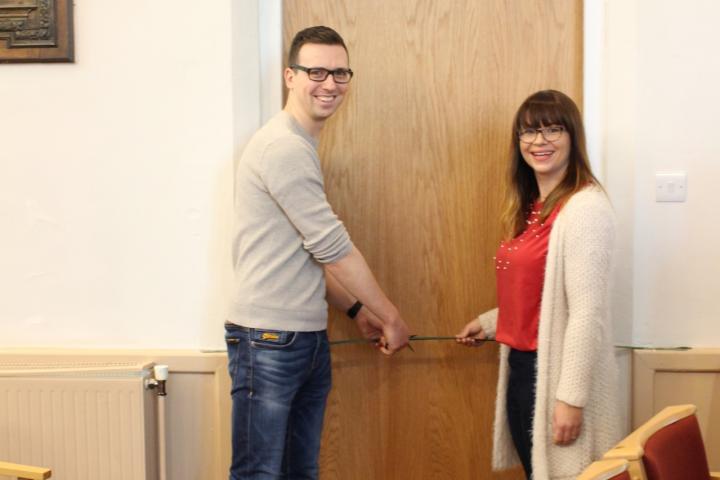 Wilmslow's newest community meeting space, the Undercroft at Wilmslow United Reformed Church on Alderley Road, is now officially open.
At a special launch event on Sunday February 4th church goers were joined by members of other organisations including Cheshire Police, Wilmslow Town Council and groups from across the town to celebrate the new contemporary venue in one of the town's best known Victorian buildings.
A dark and damp former scout hall beneath the church has now become a new multi-purpose space with a modern kitchen, wifi facilities, adaptable lighting and comfortable furniture. It has been designed for use by those from the local community wanting a place in which to meet, including young people from Wilmslow High School.
The redevelopment has been pioneered by members of the URC with help from worshippers at Life Church who for several years have both been keen to reach out to young people in Wilmslow and offer them a safe space in which to meet.
Since 2016 the congregations have worked with Christian youth work consultant Matt Williamson in what he described as a "wonderful rollercoaster", exploring and then trying to meet the needs of local young people. He and fellow youth work consultant Gemma Tuson now visit Wilmslow High School each week to run lunchtime social activities and give personal support to young pupils facing problems, as a supplement to the school's Wellbeing Hub.
Since the Undercroft upgrade was finished in December 2017 Wilmslow Youth has also been offering two after school and one evening session in the new church space each week. Young people from the school come in to catch up with friends, and play computer games in a place staffed and run by church and community volunteers.
Gemma Tuson said: "Twenty minutes at lunchtime in the school is great but it wasn't enough. We get to see and invest in the young people but the time goes very quickly. We definitely needed some sort of space where we could invest a little bit more into the young people."
During the launch event Gemma and Matt Williamson showed a video of some pupils speaking about the new Undercroft as one of the few places where their age group can hang out and invite their friends along to share the fun.
Thanking the churches for their commitment to the community's future Dr James Pullé, headmaster of Wilmslow High School said "How you in this community are investing in the young people of this community. It is quite remarkable. We are so fortunate to be educating young people in this place at this time because of the support and investment that this community gives."
Wilmslow URC minister Kirsty Thorpe sees the new community space as full of potential uses, saying "With two of the town's biggest medical centres very near to our site, plenty of need for support and friendship for older people and other groups struggling with illness and problems of various kinds we are just beginning to scratch the surface.
"The Undercroft could be buzzing with different groups every day of the week. That would be a great pay off for the investment we've made in making it so warm and welcoming."
Photo: Matt Williamson and Gemma Tuscon cutting the ribbon at the door leading to the
Undercroft from the worship area.