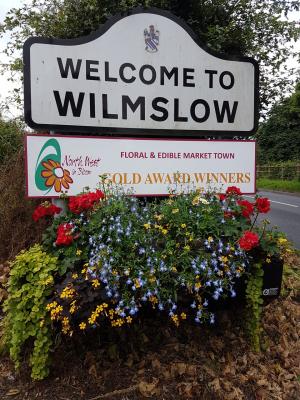 A number of voluntary groups across Wilmslow have come together to support a campaign to make Wilmslow a plastic-free town.
Led by Transition Wilmslow, so far the initiative has gathered the support of Wilmslow Clean Team, Fulshaw Women's Institute, Wilmslow Civic Trust, Wilmslow In Bloom, Dean Row Guides, Brownies, Rainbows and Wilmslow Partnership.
Organisers have also spoken to retailers in the town and aim to persuade them to let passers-by refill reusable water bottles from their tap. The campaign will initially focus on encouraging consumers to cut down on their usage of single-use plastics.
In order to achieve full accreditation as a 'plastic-free' town, campaigners called on the support of Wilmslow Town Council. At their meeting on Monday, 19th February, members passed a resolution to support the initiative to make Wilmslow a plastic-free town, make the Council plastic-free and appoint a councillor to join the 'plastic-free' steering group.
Speaking at the Wilmslow Town Council meeting on Monday, 19th February, Ruth McNulty said "We don't need to stop use of all plastics, we certainly need to try and stop use of single-use plastics such as drinking straws and coffee cups."
Professor Pippa Tyrrell MBE explained "The term plastic-free town clearly doesn't mean a plastic-free town because that would be impossible. The reason for using the term plastic-free town is because a group called Surfers Against Sewage was set up many years ago in a number of seaside towns because inevitably town councils realised litter on their beaches was detrimental economically and in many other ways. They have set up a number of plastic-free towns and there is an accreditation."
Penzance, Tenby and York have all gone plastic-free and Chester is currently on the way to achieving the accreditation.
Professor Pippa Tyrrell MBE added "What they mean is reducing single-use plastics. We know that we can't take plastics out of everywhere, we wouldn't want to but the term plastic-free is a lot easier for people to understand than single-use plastics because that takes a bit of thinking about.
"So what we are asking for is you as a council to agree that we should become a town that minimises as much as possible the use of single-use plastics so that we have shops and businesses that agree to refill water bottles, we eventually get water fountains so people can fill up their own water bottles and that we encourage people to take their own cups into coffee shops and get the discount and particularly we reduce things like plastic straws which are completely wasteful, get used for about ten minutes and get chucked away.
Pippa added "I think we would be the first town in Cheshire East to become plastic free, I think its something people would really get behind because they've seen Blue Planet, their children have seen Blue Planet and it's easy. It's just like going back to where we were 20 years ago when we wouldn't have dreamt about using a cup once or a straw once - so what not go back to paper straws."
Transition Wilmslow have organised a meeting at the United Reformed Church on February 27th, starting at 7.15pm to discuss the setting up of a plastic-free Wilmslow steering group and also to plan their stall at the Artisan Market in April to publicise the adverse impact of plastics in our environment.
Professor Pippa Tyrrell MBE said "We welcome anyone who would like to be involved in either or both, and any ideas about how to engage people in an effort to reduce our use of single use plastics are also most welcome. For further information people are welcome to email me directly."
Tags: