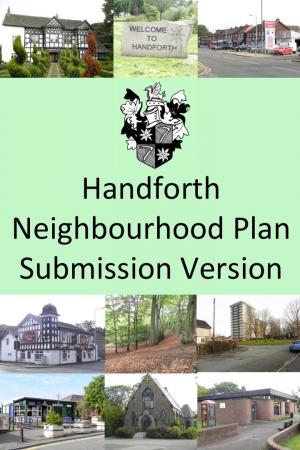 Handforth Parish Council has submitted a proposed Neighbourhood Development Plan to Handforth Parish Council for consideration.
The submission version of the Neighbourhood Plan along with its supporting documents, including a Consultation Statement and a Basic Conditions Statement, were approved at the Handforth Parish Council meeting on Tuesday 13th February and will now be subject to a six week consultation.
Handforth residents and other interested parties are encouraged not only to read the Submission Version of the Neighbourhood Plan but also to submit representations on the Plan directly to Cheshire East Council.
Dr Roger Small, Chair Handforth Neighbourhood Plan Steering Group, said "The Handforth Neighbourhood Plan has been drawn up following widespread consultation with local residents, interest groups, headteachers, health centres, businesses, property developers and landowners. Within the constraints imposed by the Cheshire East Local Plan and the Neighbourhood Planning Regulations, the Plan seeks to protect Handforth from further loss of greenbelt land. It seeks to protect Handforth's community facilities, listed buildings, non-designated heritage assets, local green spaces, and incidental open spaces.
"The plan recognises the extensive house building that is planned both within the parish and on the parish borders. Very importantly, therefore, the Plan seeks to mitigate the effects of such house building on the provision of education, the provision of healthcare and on local traffic congestion. The need for improved parking facilities in the village centre, improved public transport and improved employment opportunities is also recognised by the Plan.
"Handforth Neighbourhood Plan Steering Group hope and trust that they have correctly identified the principal needs of their community. If that is the case, then local residents and other interested parties are urged to send supportive representations to Cheshire East Council. Such representations will subsequently receive the attention of an inspector who will be appointed to examine the Plan."
The Submission Version of the Neighbourhood Plan, the Consultation Statement and the Basic Conditions Statement can be viewed on the Cheshire East Planning website. The same documents are available for inspection on the Handforth Neighbourhood Plan websiteor in hard copy in Handforth library.
Representations can be made online using the CEC consultation portal, by email to neighbourhoods@cheshireeast.gov.uk or in writing to Spatial Planning, Cheshire East Council, Westfields, Middlewich Road, Sandbach CW11 1HZ.
Any representations made may include a request to be notified of Cheshire East Council's decision on the proposed plan.
Representations must be received by 7pm on Friday 30th March 2018.
The drafting of the Submission Version of the Handforth Neighbourhood Plan represents the culmination of 15 months work by the nine volunteer members of the Steering Group and Parish Clerk Ashley Comiskey Dawson who undertook the role of Secretary and Responsible Financial Officer.