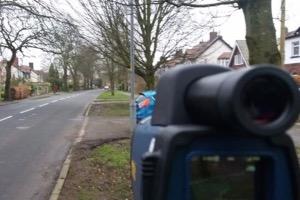 Throughout February police officers will be gathering information from local residents to enable them to set their traffic priorities for each area of Wilmslow.
Via both direct surveys and social media, residents will have the opportunity to identify roads near where they live which they would like the police to focus their attention.
Local residents will also be asked which issues are most important to them, such as vehicles speeding, drivers using mobile phones, parking and obstructions, drunk or drug driving.
Wilmslow Community Sergeant John O'Driscoll said "It's some work we're carrying out on each of the wards in Wilmslow to try and tailor the traffic priorities for each area.
"PCSO's have being visiting households filling in questionnaires over the last two weeks.There will also be a social media version issued which will again look to gauge what people want as their local traffic priority."
Sergeant John O'Driscoll added "The work will link with our TRUCAM (speeding gun) deployments to roads which are perceived as problems. Each ward will have a priority road identified which we will concentrate on in the short term before refreshing locations when the message gets across and feedback is that speeds have reduced."
Which roads do you consider a priority for the police to focus on in your ward? Share your view via the comment box below.