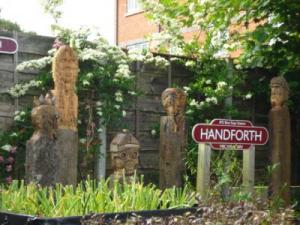 Handforth station will soon have its very own time capsule in an exciting
initiative by Handforth District Girl Guiding, The Rotary Group of Wilmslow Dean and Friends of Handforth Station.

Guiding leaders and Rotary came up with this novel way of marking the
centenary of Girl Guiding and approached the Friends of the station who were
delighted to back the project.

The bespoke capsule, which along with a commemorative plaque is being
part-funded by Rotary, has been ordered and will be buried under the station
gardens in the Spring. There it will remain for at least 50 years containing
a selection of items yet to be finalised.
Sally Cusworth, Handforth District Commissioner for the Guiding Movement
said: ""We are thrilled to be marking Girl Guiding's centenary in such an
innovative way and are grateful to Rotary and Friends of Handforth Station
for facilitating this".

She continued: "We are tracing the origins of guiding in Handforth which, we believe, go back to near 1910. If anyone has any historical information, artefacts or personal recollections about Handforth Guiding over the years we''d love to hear from them via 07779 483713 or by emailing
handforthrainbows@hotmail.co.uk.""

Rotary's involvement with the station goes back to 2001 when they commenced work on a station garden on a patch of wasteland next to the northbound platform.

The garden now houses floral displays, a railway wagon-cum-planter and a collection of award plaques accumulated by the station over the years. Most recently new sleeper sculptures were created by Paul Noon and a station scarecrow was provided by local adults with learning difficulties.
Peter Mayall of Rotary said: ""When we were approached by Handforth District Girl Guiding about how to mark their centenary we quickly agreed that Handforth station's garden would be an ideal venue as we have tended it for over 8 years. The Club has a long term commitment to Handforth station and we see this as a valuable addition"."

Mike Bishop, Chair of Friends of Handforth Station said: "We have enjoyed excellent support from Rotary over the years and are delighted that they have introduced another community group, in Handforth District Guiding, to work with us".

Visit the Friends of Handforth Station website for all the latest news.