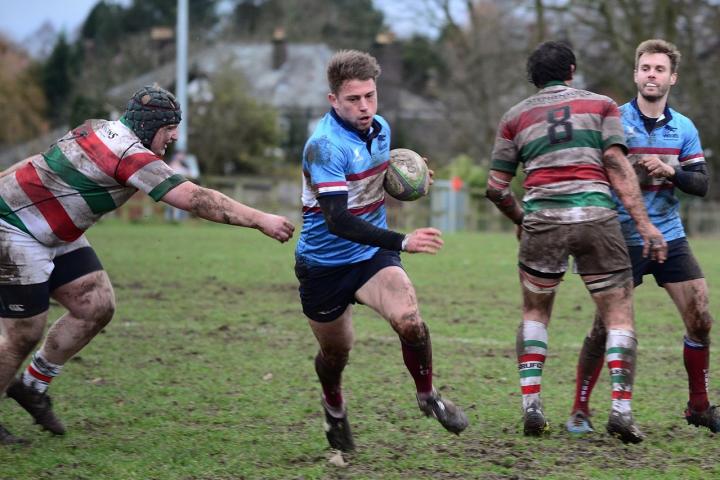 Saturday 27th. January 2018
North 1 West
Stockport 14 - 38 Wilmslow
This had been an eagerly awaited derby fixture between these two old protagonists. The first one back in the autumn had narrowly gone the way of Stockport but since then the two sides had been cheek by jowl in the middle of the league, both apparently safe from any relegation concerns but neither looking like promotion candidates either. That won't have been much on the minds of the players though. Friendships forged between some of them in days at Wilmslow High School and amongst others playing on the same side at Macclesfield, when they were a National 1 force, would be briefly cast aside. Nevertheless, it was a game that was played in an excellent spirit with none of the nastiness that can sometimes mar these occasions, when the misty haze of age old rivalries emerge to overcome better judgement. A moderate penalty count and only one Yellow Card for a technical offence was testament to that.
For once Wolves coach Rick Jones was able to select a side from a nearly full deck of cards, possibly missing only two or three of his first choice picks. On paper anyway, the absence of the powerful Dr. Tom Bull from the second row, to hospital medical duties looked the most significant. Jones though was rewarded by seeing his team put on for forty minutes, the whole of the first half, a near faultless display and their best rugby of the season. 'In six years at the club, he said afterwards, I have never seen them play better. At half time, I had nothing to say other than to tell them to keep their foot on the throttle and to retain their grip on their opponents' throats, metaphorically speaking, of course.' By that time, they had scored four imperious tries, Bob MacCallum had converted them all and added a penalty to give them a 31-0 lead at the break. The set piece, lineout and recycling at the breakdown had been rock solid. The forwards had also managed to pilfer some port possession at the throw in and at the breakdown. Behind them with quick clean ball to work with, the backs had been surefooted and positive, passing quickly and accurately and running well off the ball to support each other. The ball retention of the whole side was remarkable as they moved their opponents from one side of the pitch to the other. It was ironic that most of their scores should then come from simple well executed phase one moves.
Of course, it couldn't last for the whole game. Stockport are not a bad side and with their coach's forceful half time words no doubt still stinging in their ears, the lie of the land now in their favour and a steady North Westerly behind them, they took the game to the Wolves. At the very least, they had a point to prove but overcoming a thirty one point deficit is not an easy matter. A catch and drive after ten minutes, when the Wolves were down to just fourteen on the field, got them onto the scoreboard. Thereafter, the Wolves defence was equal to everything thrown at it and the home side's second score came in time added on at the end, when they hacked a loose ball from their own line down the field and with the help of a couple of penalties managed to force themselves over. By then the match had been won and lost for a long time.
The Wolves started with a try after five minutes when their forwards turned over a Stockport drive in midfield. Quick well timed passing to the left through the hands of Bob MacCallum and Elliot Brierley together with some incisive running from full back Ed Stobart released Elliot Rowe, playing in the centre on this occasion, for a gallop down the left wing and the opening score.
Throughout the game, the Wolves forwards were able to steal the Stockport throw at the lineout and it was from one of these that after a bout of sustained play and recycling MacCallum was able to kick a penalty on the quarter hour to extend the Wolves advantage. From the restart, a Wolves clearing kick led to a Stockport counter and two quick penalty awards which took them to the Wilmslow line but they got turned over again at the breakdown and a further sustained piece of play took the Wolves back to the Stockport twenty two, where the otherwise excellent referee Phil Bygrave found himself obstructing play. He quite rightly awarded the Wolves a scrum and a simple phase one passing move ended with Elliot Brierley sucking in the defence and releasing right winger James Coulthurst for the second try. It wasn't long before Stockport lost possession again from a forward pass and a long Wolves kick ahead got them held up in their own twenty two. The Wolves scrum was solid and another simple passing move on the left saw winger Sam Cutts run in for the third try and then on the stroke of half time, the Wolves broke from their own half, winger Coulthurst made ground before delivering a perfect inside pass to scrum half Sean Street. And that was it 31 – 0 at half time and nobody quite believing what they had just seen.
The Wolves then had to dig in to repel the home side during the second period. They didn't enjoy the same amount of good first phase possession and when they did have the ball, they found it harder to cross the gain line, to clear their lines and to retain the ball but their tackling and eagerness in defence tellingly prevented Stockport from making any line breaks. It was attritional stuff. Inevitably Stockport were being awarded more penalties for a series of technical offences by the Wolves but only once when Adam Hewitt had been Yellow Carded for pulling down a maul were they able to make anything of it from a catch and drive. Other kicks to the corners from penalties should have produced more for them but they were missing the gargantuan Schofield in the second row to direct affairs and Ms. Pemberton and Hewitt on several occasions won the ball to prevent any catch and drive situation from developing. Slowly the Wolves weathered the storm and in the latter stages they broke out several times, going close more than once. It was during this period that a crisp handling move led to full back Stobart breaking the Stockport line for the fifth Wilmslow try. With less than ten minutes to play the game was now out of sight. Coulthurst went close on a couple of occasions. What a shame he just wasn't made with that extra little bit of gas that could have taken him clear. Held up on the Stockport line, he laid the ball back but for once his support lost control at the breakdown and a big kick down field led to Stockport's final consolation score.
There was just a sense of disappointment amongst Wilmslow supporters that their side hadn't been able to win the second half as decisively as they had the first but they can still look back on a famous win. Once again the pack had done its job with the young second rows Charlie Gardiner and Max Wortley both 'looking to the manor born', and back row Seb Pemberton increasingly influential. 'Robert Taylor, sighed Jones afterward, what a work rate, covering, tackling, carrying and then scrummaging.' Sean Street and Bob MacCallum when on song are as dangerous a pair of half backs as any in the league and it only needs any of Elliot Brierley, Ed Stobart, Elliot Rowe, Ethan Harding and Jonny Kennedy in midfield alongside them to set 'the heather on fire'. When you have the likes of Brierley and Stobart playing, it just makes everyone else look so much better. But it's amateur rugby that doesn't pay any wages to put the food and drink on the table. Work commitments, even though that may mean a school skiing trip, have to take priority so not everybody is always available every week. It's great for coach Jones when he has a hand of aces to play as he did this week but next week can just as easily be a different story, if he finds himself with a pack of knaves.
Photo: Ed Stobart makes a break, Nick Jones Photography.
Match report by David Pike.
Tags: