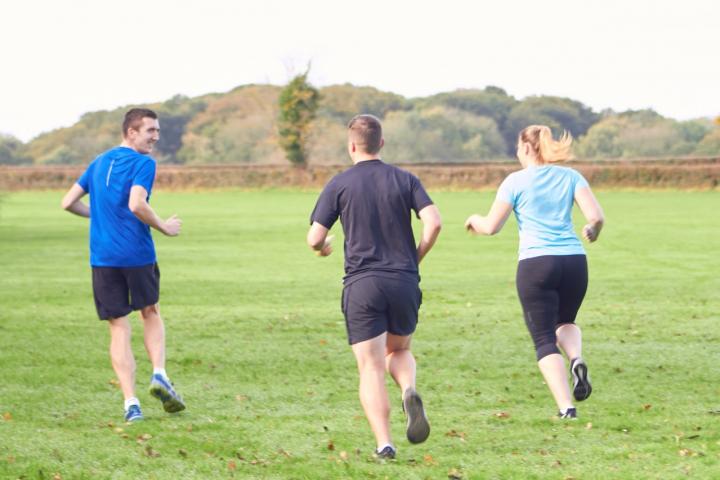 Promotional Feature
A new way of improving your running and information on your local Couch to 5k programme.
Is it when you complete your first marathon? Your first race? Or, is it when you run regularly or is it when you have completed a couch to 5k programme?
It is often a tough question to answer, especially for people just starting their running journey, but does it really matter?
Running is great, it can cater for so many goals, lifestyles, ages and ambitions. And deep down everyone who runs shares the same common objective – to get better!
Simple, we all want to become better runners. To run faster, run further, run for longer, to get fitter. But what happens when we get stuck. No matter what you do you just can't seem to improve. Or worst still, you seem to be going backwards when everyone around you is flying. You've changed everything, you've worked harder, and you've tried to replicate what others have done. Yet, you still just don't seem to be improving. Similarly, you are just starting your running journey and have no idea where to begin or you are making crucial mistakes that new runners make. In both cases, where does that leave you? What do you do now?
Have you ever thought about having your very own personal running coach?
Working with a coach might seem like a privilege for professional runners, whose livelihoods depend on performance, and an extravagance or a huge expense for "everyday" runners. Yet recreational runners arguably benefit even more from the attention, knowledge, and guidance of a coach. The right coach is willing to push you when you need to be pushed but also wise enough to rein you in when it's appropriate.
5 Ways a Running Coach Can Help You
They do the hard part – planning the training (the distance, the pace, the type, the route etc).
They can push you and motivate you.
They can tell you when to slow down – to avoid injury.
They can analyse and correct your technique.
They make you do the small things (the stretching, foam rolling, strengthening)
Through constant support you can train harder and smarter than ever before. Lose the pressure and effort of having to plan your own training. Whenever you doubt yourself, a good coach is there to encourage you. Whenever life gets in the way, they are there to rearrange your runs. They can help you maintain high levels of training without getting injured or sacrificing quality workouts. By the end of your training cycle, you will feel confident, strong, and better prepared than ever at the start of your race or more confident in your fitness and health. Imagine crossing that finish line victorious, exhausted but not wrecked, with a huge PB to show for it. Or the feeling you get when you finish that couch to 5k programme without stopping.
There is so much advice and so many different training plans out there. So many people say to do this, do that. But how do you know it is going to work for you? There is no one size fits all approach. That plan you download online may work for someone, but it may not be great for you, and if you hit a hurdle in your training, it's going to be difficult for you to know what to do.
AC Running and Fitness can help in all your goals. Qualified with UK Athletics and a former primary school teacher, I know how to plan running into your busy hectic lifestyle. I can show you how to avoid injuries, how to stay motivated, and how to fuel yourself before, during and after a run. I maintain an individualised approach, where you can trust that I work towards your best interests and find something that is going to work for you and so that you can become a better runner!
5 Ways AC Running and Fitness Can Improve Your Running
Personalised Training Plan to fit your lifestyle
Honest Approach (technique correction, pushing too hard etc)
Broad Race Experiences (sub 37min 10k's to sub 1:24 Half Marathon to numerous Ultra Marathons).
Qualified with UK Athletics and REPs Gait Analysis
Discover the marginal gains that add up to make huge gains.
Starting Soon Alderley Edge and Wilmslow Couch to 5K
Are you new to running or want to give it a go? Don't know where to start or if you are doing it right?
Then come down to your local trainer led Couch to 5k. These programmes are designed with beginners in mind. Your fitness levels do not matter. As the name suggests you will be able to come from nothing to running 5k or 30minutes non-stop by the end of the 8 week programme.
Alderley Edge – Programme starts Wednesday 31st January - 11 to 1130am meet at Alderley Edge Park. Only £3 per session.
For more details join the facebook group.
Wilmslow – Programme starts Wednesday 31st January – 9.30-10am meet at Carrs Park. Only £3 per session.
For more details join the facebook group.
Services @ AC Running and Fitness
Race Packages (5k, 10k, Half Marathon, Marathon)
Transition to Ultra Marathon Package
Lifestyle and Fitness Packages (no racing)
Individual or Block Sessions (solo, pair or group options)
Speed Sessions
Strength and Conditioning Sessions
Flexibility (stretching and foam rolling) Sessions
Personalised Training Plans
Gait Analysis.
Avoid getting stuck this year, think about having your very own running coach who can help you climb out of it and transform you into a better runner. Aspire to reach those targets, whether it be to become fitter and healthier or finally reach that PB whatever your ability, whatever your target I can help you achieve whatever you want.
For more information on any service, the Couch to 5k or to book your FREE consultation please contact Alex at info@acrunningandfitness. Or you can call/text 07785974607.
Check out my website at www.acrunningandfitness.com
Follow me on facebook and twitter.
Tags: