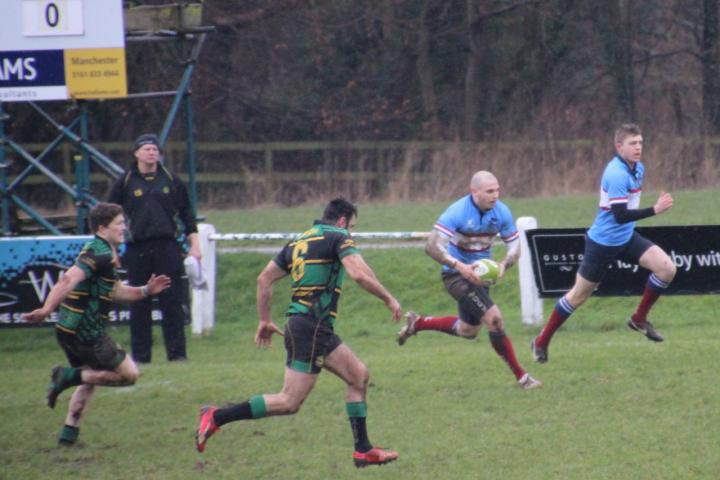 Saturday 20th. January 2018
North 1 West
Wilmslow 80 – 0 St. Benedicts
St. Benedicts from Whitehaven arrived at The Memorial Ground bottom of the league with thirteen losses and just one solitary win back in September by 20-19 when Wilmslow were the visitors. Since then Wilmslow have won only four of their next nine games, with most of the close ones going against them. If there were any 'angst' about their current form going into this one, then it didn't show. They scored twelve tries, the first after just two minutes play and the rest followed at regular intervals. Six tries were scored in the first half for a 40-0 lead and the rout continued in the second period with another six.
Whatever hopes St. Benedicts had of repeating their trick of last September were dispelled within the first minute when they were shunted backwards on their own put in and lost the ball. The Wolves used the possession to work their way downfield, set up an attacking lineout on the St. Benedicts line and to drive hooker Alex Donaldson over the line for the opening touchdown. Thereafter, St. Benedicts looked resigned to their fate. When a club is having the kind of season that they are with beating after beating, it becomes difficult to retain its players' motivation. The fortnightly three or four hour trek down the motorway to take on Cheshire and South Manchester sides loses its appeal. Suddenly players become unavailable as shopping or such like with your wife or girl friend becomes the more attractive proposition.
For their part, Wilmslow dominated the full eighty minutes. They were quicker to the ball, more aggressive at the breakdown, always crossing the gain line and in charge at the set piece, frequently pushing their opponents off the ball. This enabled them to put together some good passages of play to create some good tries. But really if their passing and handling had been more accurate and they had played the conditions with a bit more patience, they could have had several more and probably would have done on a bright dry day. On a cold and wet January afternoon though, the ball gets wet and heavy, flies slowly through the air like a sodden pig's bladder and can be just as difficult to hang on to if the pass isn't bang on target.
It was only a series of Wilmslow handling errors which enabled the visitors to make their one and only threatening sortie to within sight of the Wolves line rather than any incisive play by them. This was quickly snuffed out when an attempted cross kick for their left winger to run on to came to nothing.
Sean Street, Sam Cutts, Jonny Kennedy and his brother Danny Kennedy all scored twice. Alex Donaldson, Alex Taylor, James Coulthurst and Elliot Rowe all touched down once. Of the forwards Tom Bull stood out with his powerful drives, the Taylor brothers as usual were influential, Charlie Gardiner ran some good lines and Alex Donaldson was and is week in, week out prominent in the close quarter stuff. He is probably having his best season yet in the jersey. It was also good to see the return of the shining shaven headed Kennedy brothers after an absence of several years, the former Sale Shark, Jonny in the centre, and Danny coming on at No. 8 at half time, when Alex Taylor had to retire with a back injury. Two tries apiece is testament to their contribution and impact on events.
It'll be a different matter next week though when the Wolves visit Stockport. They lie alongside each other in the middle of the league. It's a difficult one to predict but you can be certain it won't be any pushover for either of these two age long protagonists.
Photo: Jonny Kennedy in possession.
Match report by David Pike.
Tags: