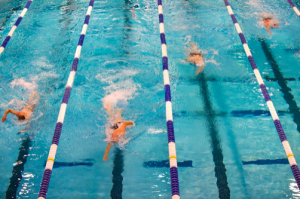 Following on their successful launch in 2017, the Wilmslow Dean Rotary Club will once again stage their fundraising swimathon event at Wilmslow Leisure Centre.
Last year 120 swimmers and 22 teams raised over £4,000 and the Club members are hoping to attract even more participants for the event in March 2018 - to increase the amount raised for local charities and worthy community groups.
Entrance is £15 per team of swimmers and all sponsorship money raised by each team will be retained by them to support their own chosen good cause(s).
Weekend sessions will be taking place on Saturday 24th and Sunday 25th March. Whilst midweek school sessions will take place on Wednesday 21st and Thursday 22nd March.
Organiser Rotarian Paul Almond said "We were delighted with the support and enthusiasm of the participating teams last year and part of the monies raised from the event enabled us to further support self-esteem and confidence projects in schools, canal boat trips for the seniors, Hearing Dogs for Deaf People and the new rota-gym equipment recently installed in the Carrs Park.
"We encourage local businesses, schools and community groups to sign up now and join us in our fun with a purpose event."
For further information and an entry form email wilmslowswimathon@gmail.com or telephone Paul on 07771 636727.