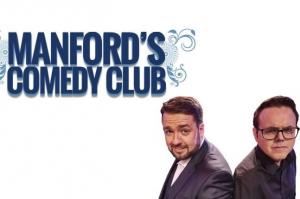 Promotional Feature
Manford's Comedy Club will be heading back in to town on Saturday 17th February with a live comedy show that features four hilarious comedians who are well-known names on the UK comedy circuit and are all personally chosen by Jason Manford.
Expect a great evening of original stand-up comedy from some very funny people, who thrive in the live arena and just want to make you laugh out loud!
Manford's Comedy Club was launched by comedian Jason Manford and his brother Colin just over two years ago. The idea was to bring comedians from the UK circuit to small towns and cities across the country for a night of live comedy.
The Festival Hall is becoming a firm favourite with the Manfords team and comedians, as the local community have been out in force to attend the previous shows.
Here's a quick introduction to the comedians appearing at this next show:
Debra-June Appelby: ..Northern humour with a no-nonsense take on the world. Razor sharp – never misses a beat.
Steve Shanyaski: ..full of charm and warmth, quirky observations delivered with a cheeky grin and a twinkle in the eyes.
Rachel Fairburn: ...sweet as chocolate and twice as dark.
Ian Stone: ...like a cross between Tony Hancock and Frankie Howard – a master of self-mocking Jewish humour.
Come along and join us for a good laugh and an alternative Valentine's night!
For just £15 you get 4 comedians from the UK comedy scene.
Doors open at 6.30pm and the show starts at 8pm.
You will be sure of a great night out, lots of good old Northern humour and a very warm welcome from the Festival Hall and Manfords team!
Ticket priced £15 (+ booking fee) are available from http://manfordscomedyclub.com/gigs/
Tags: