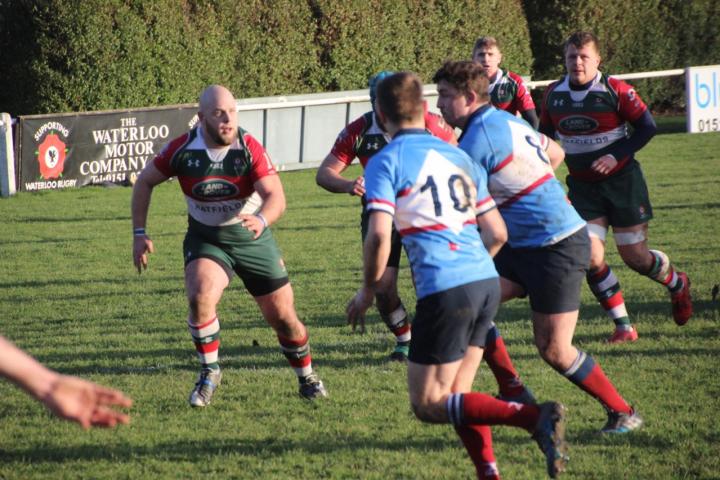 Saturday 6th. January 2018
North 1 West
Firwood Waterloo 25 – 19 Wilmslow
Wilmslow could have no complaints at the outcome of this one. After more than four weeks of no rugby because of waterlogged or frozen pitches and the Christmas/New Year break, it would hardly be surprising if they had been a bit ring rusty but much the same would also have applied to their hosts. In the event, they were outplayed by a Firwood Waterloo side who dominated possession of the ball and field territory throughout. There's was the steadier scrum from start to finish and when Wolves hooker Tommy Wilkinson had to leave the field early on, they fed off the Wolves subsequent inaccurate lineout throwing. The home side too retained the ball well, forcing the Wolves for the most part to live of scraps of turnover ball and some pure opportunism from scrum half Sean Street.
Somehow, it was all summed up in the last few minutes. The Wolves had managed to restrict the home side to just three tries, when it could easily have been a whole lot more, and then forced themselves into an attacking position which would either have reduced the deficit to just a single point or given them a one point win if they'd been able to make anything of it. A catch and drive opportunity was well defended by the home side and went awry The Wolves were then awarded a penalty bang under the Waterloo posts. You couldn't wish for a better scoring position. Quite sensibly they opted for a scrum, except that they got shunted backwards at a rate of knots, lost control and then got penalised for being offside when they attempted to tidy up the mess. To add to their discomfort Waterloo were down to fourteen players at that point. And that was it. The home side banged the ball into touch around halfway and not long later, the referee blew for no side. Consequently it was a losing bonus point for the Wolves instead of a bonus point win. By such narrow margins..........
Waterloo were in the box seat from the outset. Bob MacCallum's early clearing kick from the kick off was well fielded by Jacob Allen on the Waterloo left wing and an opening salvo eventually produced a penalty for a 3-0 lead. They were off again from the restart. A fine break down the left looked as though it had to produce a score but the Wolves escaped with a drop out. This time there was no let off and after several phases Waterloo's right wing Luke Nelson, broke through for the score. At this stage the Wolves had barely touched the ball.
From the restart though, they did get possession and some patient play got them up to the Waterloo line, where Sean Street dummied a pass before barging over from the breakdown. On the half hour, second row Tom Bull broke through the defence and passed to the supporting MacCallum, who was fouled in the act of scoring. A penalty try was awarded and the Wolves briefly led 12-10.
The pattern of the game was now well established with Waterloo dominating possession and it was no surprise when they landed a second penalty just as half time approached. They were on the attack again when they were driven back by some aggressive defensive tackling and got themselves penalised. Ever aware scrum half Street took a quick one and raced away from half way for a score out of nothing. When they did manage to get the ball, the Wolves did look as though they had the firepower in the back five of their pack and at half back to cause problems but it's difficult to do that without a fair share of first phase possession.
Half time arrived with everything still to play for but it wasn't the Wolves day. They saw virtually nothing of the ball again until the dying moments and on the balance of play did well to keep Waterloo down to just two tries, one from right winger Nelson and the other from a forwards pile up on the Wilmslow line. Several other Waterloo scoring opportunities were butchered by some heroic tackling from Rick Hughes and the final pass going astray. Only some opportunistic play by Street from interceptions and getting to the loose ball first created a handful of unlikely possibilities but when the support couldn't keep up with him, Street could not be expected to do it all on his own.
If the Wolves are to make any impression at this weekend's visit to Douglas (IOM), they're going to have to be far more authoritative at both the scrum and lineout. Without a regular supply of decent first phase possession, it becomes a very difficult game to play.
Photo: Alex Taylor with Bob MacCallum at his shoulder.
Match report by David Pike.
Tags: