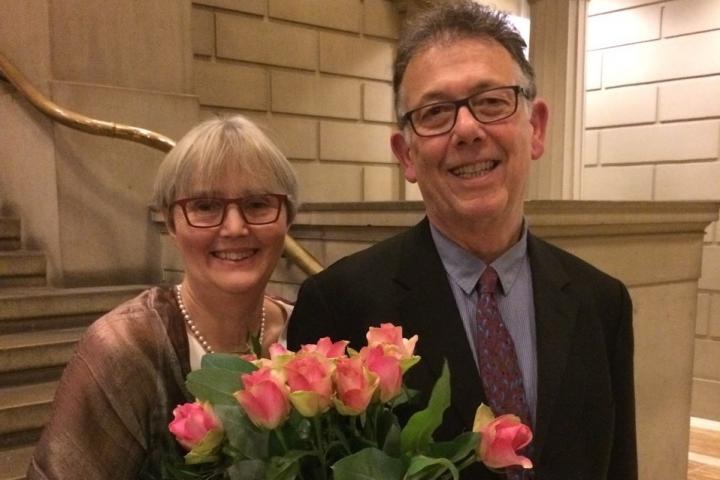 Professor Pippa Tyrrell has been made an MBE in the New Year Honours list for services to stroke medicine and care.
Pippa was appointed as Manchester's first Consultant Stroke Physician in 1995, when she set up the stroke rehabilitation service at Salford Royal Hospital. Initially funded by the Stroke Association, Pippa went on to establish an acute stroke service in Salford to provide 24/7 stroke expertise and enable people to benefit from new treatments which need to be administered very quickly after stroke to reduce brain damage.
Realising that high quality acute stroke care needs to be available to everyone with acute stroke in Greater Manchester, not just those in Salford, she was instrumental in developing the integrated stroke service across the conurbation, the first of its type in England, where anyone presenting with acute stroke symptoms is taken to one of three hyper acute stroke centres (Salford Royal, Stepping Hill or Fairfield). All acute Trusts in Greater Manchester were designated "A" quality in the most recent national stroke audit, demonstrating a very significant step change in the quality of stroke care in the city.
In 2012, Pippa was appointed Professor of Stroke Medicine at the University of Manchester, where she has been involved in internationally competitive research in the development of new treatments for all types of stroke including brain haemorrhage. She was Associate Director of the Royal College of Physicians Stroke Programme with responsibility for the National Stroke Audit, SSNAP, and was involved in the production of National Guidelines. Although she retired from the NHS and the University last month, she is continuing as Trustee and Medical Vice Chair of the Stroke Association. Pippa was awarded the Stroke Association's Special Recognition Award in 2015.
Professor Pippa Tyrrell has lived in Wilmslow with her husband Professor Anthony Jones since 1993. They have three children, Toby Jones, 28, who is a theatre director based in Leeds; Caitlin Jones, 26, who is a doctor based in Edinburgh, currently working in Africa, and Olivia Jones, 24, who is studying for a Master's in Middle Eastern Studies in Oxford.
Pippa is also currently the Chair of Transition Wilmslow, a group of local people who are involved in practical green projects such as the award winning Community Garden in the Temp, a walks programme to encourage access to the outdoors, awareness raising of the importance of Lindow Moss, meetings and films, and projects to help people reduce energy and plastic wastage.
Pippa told wilmslow.co.uk "Being awarded the MBE is a surprise and an honour. It has been an absolute privilege working with people with stroke and their families over so many years. Stroke can be a devastating disease but high quality treatment with early access to specialist stroke units makes a massive difference. Stroke care in the NHS is as good as anywhere else in the world, and I am proud that care in Greater Manchester is now so good. Recovery can sometimes be life long, and I am looking forward to continuing to work with the Stroke Association to improve "life after stroke."
She added "Working with Transition Wilmslow reflects the importance of access to the outdoors, exercise, volunteering with others, social participation, lifelong learning and access to healthy eating, reducing atmospheric pollution and reducing the effects of climate change in maintaining health throughout our lives. While stroke can sometimes be unavoidable, many strokes are related to life style choices, and the way we live our daily lives can have an enormous influence on our physical and mental health and wellbeing."
Photo: Professor Pippa Tyrrell with her husband Professor Anthony Jones on the occasion of her retirement earlier this month.