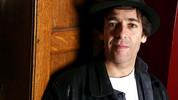 Comedian Mark Steel is visiting Wilmslow for his second series of the Radio 4 show "Mark Steel's in Town".

The series sees Mark visit six different towns, where he looks into the history, people and distinguising characteristics of the place to try and establish what really makes it unique. 


After considerable research Mark creates a stand-up comedy show for a local audience based on what he finds out about the area. On February 12th Mark will be performing his show specifically tailored for Wilmslow and Alderley Edge at The Green Room Theatre.

In addition to lots of reading, Mark's research for the show has included several visits to the Wilmslow, and Alderley Edge, one of which included an evening out exploring the bars and pubs of the town.

Speaking with Mark this evening he said " We spent about an hour in Revolution, followed by Boca then somebody recommended Forty Four but when we got there it was shut so we moved on to The Rectory."

"I'm interested in finding out about the people and personalities that live there and tend to shy away from the celebrities."

The first series of "Mark Steel's in Town" received very positive reviews because of his astute observations of the local people and the community they live in.

If you want to know what Mark makes of Wilmslow and Alderley Edge then you can apply for free tickets to be in the audience on February 12th via the BBC website, or you can listen to the show when it is broadcast on Radio 4 in March. Exact details to follow.