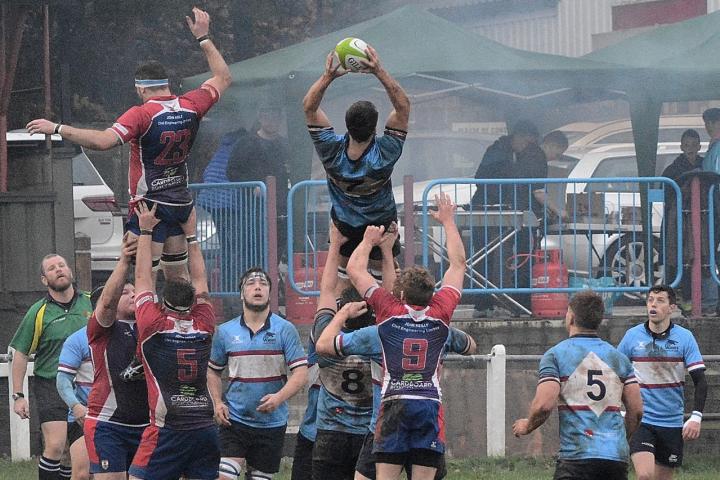 Saturday 2nd. December
North 1 West
Wilmslow 18-17 Blackburn
Dreich and pervasive drizzle, falling mist and poor light had The Memorial Ground floodlights at full power from early on. Without them, it's doubtful that this game could have been completed.
When Blackburn scored a well crafted converted try midway through the second half to open up a 14-6 lead over the Wolves, it looked ominous for the home side. It wasn't that they were playing badly, the eight point deficit wasn't insurmountable but Blackburn had at that stage grabbed control and weren't making too many mistakes. Night was drawing in, the mist was settling and a persistent pervasive drizzle was falling. Quite how they would salvage something from the game in these conditions was a question that could only be answered more in hope than conviction.
And yet as the gloom became its murkiest, they hit back with two tries to secure the narrowest of leads. Even then Blackburn's full back Leon Fifield still had a long range penalty shot that would probably have won them the game had it gone over. Any impartial observer and I don't think there were any of them present may have concluded that in the end it had gone to the side which had displayed a bit more ambition to score tries. Wilmslow's Bob MacCallum eschewed at least two kicks at goal, which may have been in his range, to set up attacking lineout positions. Fifield on the other hand missed three shots at goal, none of them easy but within his range, when in the conditions he may have been better advised to have kicked the corners to give his pack the chance of a 'catch and drive'.
The Wolves were still bottled up in their own half, as they had been for much of the third quarter when centre Ethan Harding took the only realistic option open to him, to kick down the left touch line for his winger to chase. It was the ten – twelve playmaker option, which we have heard so much about from the pundits since last Summer's Lions Tour, in action. The Kiwi Caleb Loomans set off after it like a gun dog, managed to get a toe to the ball and then again, forcing the last Blackburn defender to kick the ball dead. Quite rightly, referee Daniel Taylor awarded the Wolves a five metre scrum from which No. 8 Alex Taylor broke and somehow managed to twist and turn with the help of his mates to get the crucial touchdown. At 11-14, they still had to score again and when they offended after a poor exit from the restart, Blackburn's Leon Fifield kicked an improbable penalty from long range for 11-17. Only a converted try would now do.
This came when Blackburn infringed as the Wolves threatened in their twenty two. MacCallum's kick set up a lineout within five metres, the throw and catch was good but the drive was held as it crabbed into midfield. When it was pulled down, referee Taylor played advantage and scrum half Sean Street found a gap to nip in from close range. Something must have been said that offended Mr. Taylor, so it promptly became a penalty try, thus denying Street his sixth try of the season.
There was still ten minutes to go but 'Burn, now down to fourteen, were unable to make much of the possession that came their way, Fifield's final long range penalty attempt went wide and the Wolves then played out the remaining time. Another frustrated Blackburn player got Yellow Carded for bad language and the Wolves were on the attack again looking for their third try when Street judged the moment to kick the ball out of play for no side.
Blackburn had been first on the scoreboard after just a minute when a high kick ahead from Fifield was spilt by the Wolves and he simply pounced on the loose ball for a simple run in from 30 metres. Thereafter, the Wolves generally had the better of the first half play but were their own worst enemy in trying to play what was described by one spectator as 'dry weather rugby in wet weather conditions'. At the break all they had to show for their efforts was a solitary MacCallum penalty.
They came out bristling for the second period and within a couple of minutes MacCallum had notched over his second penalty and then they promptly lost a lineout just after the restart. This heralded twenty minutes or so of Blackburn pressure in the Wilmslow half. Their second try came from a five yard scrum, which was initially halted by the Wolves but when the ball was released 'Burn had men over and Fifield exploited the space well to squeeze in at the corner. He then converted his own try.
Despite the miserable conditions, it had been a good entertaining game between two evenly matched sides, both of whom wanted to play positive attacking rugby. The pitch, although in good condition, was wet and heavy slowing down the play. Wilmslow despite plenty of possession, particularly in the first half, were never once able to make a line break and nor were their forwards able to capitalise on several good positions. The visitors for their part, led by No. 8 Corey Logan, broke the Wilmslow line several times when tackles were missed and only a resilient covering defence prevented them from scoring more than once in the opening period. Rick Jones recognised the danger and brought on the veteran Charlie Levings in the back row early in the second half to tighten up the midfield defence. 'Not much got through after that', chuckled Jones afterwards, obviously delighted that his tactical foresight had made a difference. In the nip and tuck of the second period, it was a game that developed into an even if dour contest, between two sides neither of which were making unforced errors.
Coach Rick Jones had known that this would be a close shave believing that in the end it would be the side 'wanting it the most', which would prevail. For the third week in succession, the Wolves had shown this quality by coming from behind to grab a win in the final quarter, being awarded a penalty try on each occasion. He singled out hooker Alex Donaldson for an immense performance. Donaldson had to switch to loose head when Jonny Evans retired after fifteen minutes with a pulled hamstring. His scrummaging, his throwing at the lineout and his contribution around the field stood out and all this after a week of working nights. The Kiwi too, Caleb Loomans, put in a fine stint on the left wing with several dangerous runs arguably making the difference between winning and losing. And the heavy weights in the pack Alex Taylor, Tom Bull, Max Wortley and Adam Hewitt once again punched their weight and more throughout.
North 1 West is probably more competitive this season than ever before. Only Vale of Lune have looked a cut above the rest, whilst the next eight on their day all look capable of beating each other, whether it be home or away. Only the bottom three are in danger of being cut adrift. Next week, the Wolves make the short journey to Cheadle for what will surely be a fiercely contested local derby against Manchester.
Photo: Adam Hewitt takes lineout ball. Credit Nick Jones.
Match report by David Pike.
Tags: