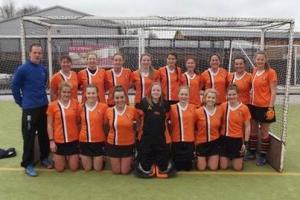 Wilmslow Ladies 1sts 2 Deeside Ramblers Ladies 1st 0
On one of the coldest days of the year so far, Wilmslow ladies 1s donned their base layers and fielded a strong 15 to face top of the league Deeside Ramblers.
The match started at a cracking pace with Deeside's young team pressuring Wilmslow right from the start. Despite this, thanks to the strength, experience and fitness of Wilmslow's defensive unit, the visitors created no real chances of scoring.
It didn't take long for Wilmslow to find their own attacking stride with screens Hall and Harrison linking well with midfielders Westbrook, E.Kelman and Walters. Forwards Rachubka, new player Botha along with Healey and Senior repeatedly created D penetrations and were eventually rewarded with a short corner. A well struck shot forced a good save from the keeper, who was unable to stop Botha neatly slotting the rebound in at the back post, making it 2 goals in 2 games for the team's newest player and 1-0 at half time.
The second half saw more fast attacks from Deeside and unremitting defending from Wilmslow. Calm transfers between Hunt, Lang, C.Kelman and Fleming creating more attacking opportunities for the team. Excellent play from Walters, Loughlin and Rachubka soon created another short corner. This time, it was Senior who was perfectly positioned to score from a saved shot after some improvisation by E.Kelman at the top of the D. Tireless effort from Hall, Harrison and man of the match Westbrook, combined with perfectly timed tackles by H. Kelman meant the visitors were held at bay until the final whistle blew.
The 2-0 score sees another clean sheet and Wilmslow, as yet undefeated, now move to the top of the table with a trip to Timperley to look forward to this Saturday.
Ladies 2nds had a comfortable 5-1 win away to Bowdon 4ths but the 3rds and 4ths both went down to Poynton 3rds and Bebington 2nds respectively
With Wilmslow Mens 1sts match in Newcastle cancelled spotlight turned on the 2nds who turned on a stunning display to Beat Stockport Bramhall 1sts 4-1. James Bell followed up his last two weeks hat-tricks with a couple more to make it 8 goals in three weeks.
In the days other matches Wilmslow Mens 4th thrashed Sale 3rds 10-0 and the 5ths notched up their second win with a 3-0 defeat of Macclesfield 4ths.
Match report by Steve Kinsella.
Tags: