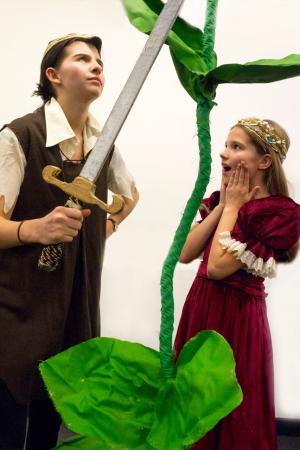 This year's pantomime at Wilmslow Guild is the much-loved classic Jack and the Beanstalk.
The Guild Players' pantomime is always very popular, with many people enjoying taking their children to the show in the run-up to Christmas to get into the festive mood.
Publicity officer Caroline Lucas said "People love to come to our pantomime because unlike the big professional shows our theatre only holds eighty. This means the children are really close to the action and they are always totally absorbed in the show."
As last year, the panto is being directed by Guild Players member Anja Schiebeck. When asked about her choice of panto, she said "after last year's adventure with 'Dracula - the Panto', the Guild Players and I felt it was a good time for a truly classic pantomime. Jack and the Beanstalk is a beautiful fairy tale with all the elements of a great story and the good fun of a pantomime. Everyone knows it and everyone loves it."
The cast consists of quite a few new members alongside a lot of old hands, who have been with the Guild Players for a long time.
Anja said "Everyone is putting in a lot of hard work but we are having a lot of fun in the rehearsals too. As the director I am so grateful to the actors and the stage crew for all their dedication, their discipline, their readiness to take on challenges, to develop and try out ideas, to overcome fears and their absolute commitment. It is a great pleasure for me to direct such a beautiful panto with such a wonderful cast and crew.
"To give more Guild Players members the opportunity to take part we have added two characters to the original script," said Anja. "One is in the original fairy tale but not in this version of the pantomime, and the other is completely new. Working these in and going into quite some depths with the development of the characters have been challenges, especially in the fairly short rehearsal time."
Caroline Lucas added "Demand for tickets has already been really high. The Saturday matinee show is always really popular and already sold out. We are nearly full for Friday and Saturday night too, so if your kids are interested don't leave booking tickets too late.
"The actors, the stage crew and I would like to invite people to experience the great combination of adventure, fairy tale moments, magic, music, dancing and lots of fun," said Anja. "Come and have a great time!"
The pantomime runs from 13th to 16th December at Wilmslow Guild, the adult education centre on Bourne Street. Performances start at 7.15pm and finishes by 9.30pm.
Tickets cost £7.50 for adults and £5 for children (£6 and £4 on Wednesday) and can be booked online at www.wgp.org.uk or by calling 01625 520126 or emailing tickets@wgp.org.uk.
Photo: Jack Trot (Caity King, left) and Princess Melissa (Jessica MacDonald).
Tags: