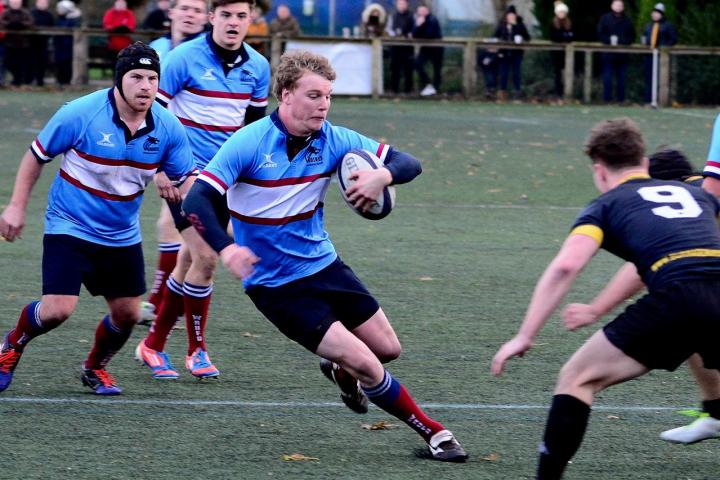 Saturday 25th. November 2017
North 1 West
Burnage 15 – 17 Wilmslow
'On through the hail like a pack of angry wolves on the trail' are lyrics from the song of the Mounties in the Oscar Hammerstein musical Rose Marie of around eighty years ago. The same lyrics though succinctly describe the Wolves two point win against Burnage.
Well into the last quarter, the Wolves were battling hard to hold onto their narrow lead, when Burnage were awarded a penalty close to halfway in front of the posts. Their No. 10 Rhys Evans was lining up his goal attempt when the steely grey heavens burst open to throw down, or should it be up, a vicious torrent of hailstones over Varley Park. How much this short lived storm affected the unfortunate Evans will never be known but he had to get on with it whilst he was being blasted with hail stones and his kick then went well wide of the mark. The hail was still cascading down fiercely when Bob MacCallum dropped out for the Wolves. Unsurprisingly, Burnage soon conceded possession, and then the storm abated as quickly as it had come. The Wolves with possession of the ball in a marginally sunnier time now ran down the clock deep in Burnage's twenty two. It was up your jumper stuff, the ball was never released beyond the back of the scrum or lineout and when Burnage infringed it was merely prodded back into the corner. Needs must, that was that, and the job was done!
Burnage had been on a four game winning run, albeit mainly against second half of the table sides, claiming the notable scalp last time out of an under performing Waterloo. Their two losses at home had both been by the narrowest of margins against second placed Warrington and, in all probability, third placed Northwich, if their game against St. Benedicts hadn't been postponed. On the artificial surface at Varley Park, Burnage are clearly no mugs so any win by a visiting side has to be treated with respect. That said, it was still, as Wolves prop Robert Taylor remarked afterwards, a 'winning ugly' performance. Neither camp will have been entirely satisfied with how their team performed. The Wolves had plenty of first phase possession, plenty of good attacking positions but they never really looked like breaking down a resolute Burnage defence when they had the chance. Add to this some over ambitious options and some poor ball retention and you had the makings of a fitful display. For their part, Burnage were always dangerous on the counter and you felt could have made more of their opportunities, arising mainly from turnovers and misplaced Wilmslow kicks, than only the two opportunistic tries, they did manage to score. Once again though, you have to commend the Wolves for getting back and eventually snuffling out Burnage attacks when danger threatened.
The opening score came after just five minutes for Burnage. Rhys Evans' cross kick for his right winger to run onto had the Wilmslow defence knocking on, enabling the home side to regain possession, recycle several times and for Wilmslow to then get themselves offside. Evans kicked the goal.
The game then got into a pattern which didn't change much throughout. The Wolves forwards consistently forced Burnage to infringe, Bob MacCallum kicked the corners to create field position and chances but it was a day though when their catch and drive tactics just didn't work. After fifteen minutes, they had to settle for a MacCallum penalty. They were on the attack again, close to the Burnage line when they lost control and Burnage No. 8 Ralph Lawson broke from a defensive scrum to feed his No. 7 Rory Kerins, who raced away to halfway. Evans then had the Wolves defence guddling about in some disarray from another well despatched crosskick to force an attacking lineout five metres or so out from which second row Nick Scholes applied the 'coup de grace' converted by Evans. Back came the Wolves and this time an attempted clearing kick by Burnage flanker Kerins was swallowed up by his opposite number Sam Pemberton about ten metres out. He ran in unopposed. The Wolves were again forcing the pace when loose play in midfield gifted the ball to the home side, who made the most of it to run in their second try from left winger, James Knight. The Wolves still had chances to tie things up before the break but on this occasion they just couldn't find a way either through their forwards or through back play to make any impression on the home side's defence.
The second half continued in a similar vein. The Wolves creating several good positions, going close more than once, through scrum half Street, winger Rowe and No. 8 Taylor only to lose control at the decisive moments and then, more than once, nearly being caught by the sucker punch as Burnage countered with enterprising running from turnover ball and from a scrum which for a period had the Wolves in trouble, until Jonny Evans came back on at loose head to restore some order. The only second half score, and as it turned out the decisive one, was a penalty try awarded when the Wilmslow scrum was illegally thwarted as it advanced towards the Burnage line. It was the third Burnage penalty offence in quick succession so they only had themselves to blame for this outcome. They were far from beaten though and the Wolves had to defend well to keep them at bay. MacCallum had a pair of penalty shot chances which would have tied it up for the Wolves had they gone over. It was just a day when the scores wouldn't come.
There were mixed feelings afterwards, partly a recognition that Burnage were always going to be a hard nut to crack at their place, partly frustration that the Wolves had still had sufficient chances to have won more comfortably and partly relief that their defence had been up to the task of keeping the dangerous Burnage marauders at bay, when it looked as though the pendulum could easily swing in their direction. On the plus side, Rick Jones will be pleased of the progress being made at this level by newcomers to the side such as Sam Pemberton, Charlie Gardiner and Toby Rowe. There was also the welcome return of Ed Stobart after a long absence. His twenty minute cameo at full back certainly added an attacking dimension and some sparkle to the backs play.
Next up are Blackburn at the Memorial Ground. They have won four times away from home this season and like the Wolves have seven wins out of eleven. Nobody will be under any illusions that this will be anything other than a stiff test.
Photo: Centre Ethan Harding takes evasive action against the Burnage defence. Credit Nick Jones.
Match report by David Pike.
Tags: