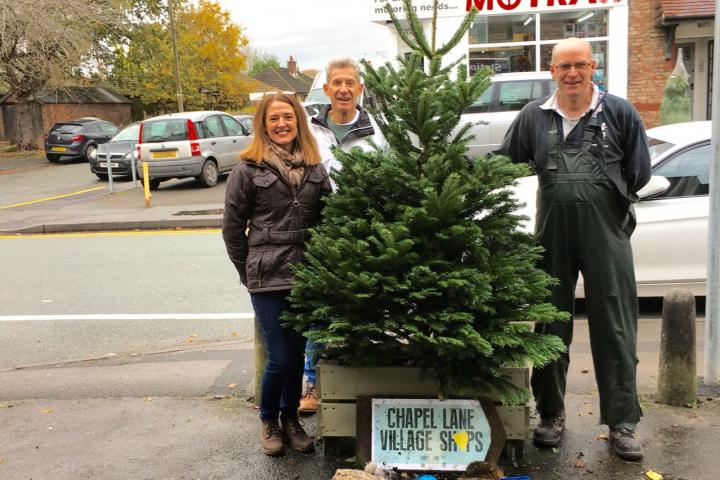 Businesses on Chapel Lane are hoping for support from Wilmslow Town Council in the run up to Christmas.
Having made a concerted effort last year to put on a lovely display of wreaths, Christmas trees, decorations and Christmas lights, Chapel Lane Business Group have asked if the Council could do something to help make the Lane look very Christmassy.
Julie Dawn Potts, of Chapel Lane Business Group, attended the Town Council meeting on Monday, 20th November.
She said "I first came here in 2015 requesting some Christmas lights and decorations for Chapel Lane and at the time you kindly unanimiously agreed you would go ahead with that and put us in the budget.
"I then came back in 2016 and requested same thing as nothing has been done and now 2017 and we've got nothing. No Christmas decorations at all from the Council and given we have such a large community of families with children - a huge residential area, part of Wilmslow, it would be fantastic if we could have something small from the Council given what's happening in Wilmslow town centre."
Councillor Martin Watkins responded "We don't actually recollect that we'd put lights there but the Council is going to consider what it may or may not be able to do but one of the problems is where the lights go because if they are not on the highways they are likely to be on private land and that is a problem."
Julie added "I actually went round all the shop keepers last year and they all agreed to have lighting, of which I actually organised myself and we got a local electrician to do that. Now given the fact that the business owners themselves said they'd be more than happy to do it, if it is not lighting it could be something towards it. They'd be really happy to see something the Town Council can do, if it isn't lighting but they all agreed last year that and we had a fantastic display that was all done at their own expense and I just feel that it would be really lovely if the Town Council could do something towards that in some way.
"We have our lights so all we need is an electrician. I don't know how much that would be but it would be really welcome if you could do something."
Wilmslow Town Council agreed to discuss how they can help make Chapel Lane look festive and support the local businesses.
Photo: Julie Dawn Potts, Tony Riley and a local resident putting three Christmas trees in the planters along Chapel Lane.