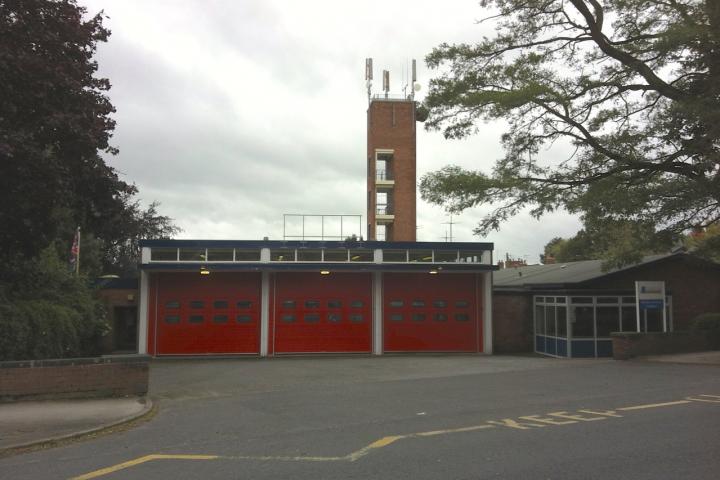 Representatives from Cheshire Fire & Rescue Service attended the Wilmslow Town Council meeting on Monday, 20th November, to provide an update on current issues facing them in Wilmslow.
Alex Waller, Head of Service Delivery, who is responsible for all of the frontline operations across Cheshire spoke about future plans and the current level of the service, as well as their expansion into new areas.
Cheshire Fire Authority has recently consulted on its a second Emergency Response Review to ensure it is able to respond to future demands. As part of this exercise they are reviewing the current crewing arrangements at Wilmslow Fire Station to ensure that it continues to be both efficient and cost effective.
Speaking at the Town Council meeting, Alex Waller started by addressing concerns about potential changes at Wilmslow.
He said "Just to reassure you, there's no proposals in the plan to change Wilmslow. What the Integrated Risk Plan - which is out for consultation now - says is that we are going to do a review into Wilmslow.
"If that plan is approved in February by the fire authority members then that will kick in from April next year and then the review will start. If the review does proffer some changes this time next year is when we will be consulting on any changes. So as we stand tonight there is no plans to change the fire cover for the community or anything to do with Wilmslow."
He then proceeded to explain about the Wilmslow model which is what they call a nucleus duty system which means it has full-time firefighters from 7am to 7pm seven days a week and during the evenings and night it has part-time or on-call firefighters, who live or work within 5 minutes of the station.
This model is in operation in a lot of stations across Cheshire and whilst they sometimes have problems with availability, as the on-call officers have jobs, they don't at Wilmslow where they have 24/7 cover.
Alex said "In recent years the number of incidents fell significantly, Wilmslow fire engine - just on salaries alone - probably costs around £650,000, that's no equipment, no station, just the salaries and it goes to less than one incident per day so the amount of time the crews spend on incidents is tiny, it really is but we do more than respond to incidents.
"Our job is about prevention so working with other people and partners to reduce risk. The incidents have gone down and down to the point now where the main focus of the job, is obviously operation because that can be the difficult and risky business, but it's more about prevention."
Of those incidents in Wilmslow half are actually false alarms.
The target if you call the fire authority for a life risk incident, i.e. a road traffic collision or a house fire, is that they will reach you within 10 minutes 80% of the time, and in Wilmslow they exceed the target and achieve that 9 times out of ten.
As a result of the drop in incidents the Fire Authority has expanded into new areas, such as forced entry and cardiac response - which includes attending incidents where people have fallen and their front doors are locked so the ambulance crew cannot get in - in the last year they went to about 20 of these incidents in Wilmslow.
Additionally, as a trial in Holmes Chapel, Frodsham and Crewe they have been attending incidents, alongside ambulance crew, where someone has had a heart attack and they are hoping to roll this out across Cheshire.
Alex Waller explained "There are two operational areas that we have entered into, because the number of incidents has reduced so much we are trying to add value and do more to help the community.
"Prevention is now the biggest part of the job in terms of the day job so in Wilmslow we go into around 1500 homes in Wilmslow every year and we fit smoke alarms.
"What's happened in the recent year is do more and we might have a discussion about bowel cancer screening. I know it sounds uncomfortable but what we've noticed is lots of people get the kit sent through the door but they don't send it back. The firefighter is a trusted brand, who enters the house to fit the smoke alarm and asks did you get the kit? Did you send it back? Do you want me to get you a new one?"
Since February they have had well over 1000 of these discussions and three of those were with people who asked for a new pack and sent it back to discover they had bowel cancer.
Alex added "As we know early bowel cancer is treatable, so in effect there's potentially three lives saved, nothing to do with firefighting, just to do with working with partners whilst we're there anyway fitting a smoke alarm, and asking a couple of questions, using our brand and reputation to nudge the household along to say you might want to send this back."
Additionally they have added atrial refribillation (irregular heartbeat) to their remit which is a heart condition which is easily treatable but can result in strokes and fainting. Since February over 20 people have been diagnosed by firefighters as having the condition.