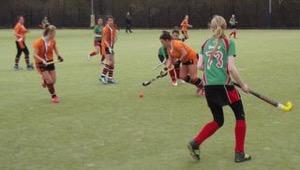 Wilmslow Mens 1st 3 Chapletown Mens 1st 2
Wilmslow Men's 1s hosted Sheffield team, Chapeltown who were one place above in the league with a very similar record so far this season. The visitors started brighter with much of the possession throughout the first 15 minutes, creating a few clear chances to test Pickering in the Wilmslow goal.
Wilmslow then started to put a few passes together and created a few fast flowing attacks which saw a slick finish from David Boddy after 25 minutes to open the scoring. Wilmslow then stepped up a gear and created more clear chances but could not score. From ones of these missed chances Chapeltown broke and with a long ball into the D, Martin Wright's deflection was given as a goal...1-1 at Half Time.
After a reminder at half time to the Wilmslow Men what was missing in their game, they were fast out of the blocks and set a high intensity which Chapeltown struggled with. Chances were created but not challenge to the score board. However after another flowing attacker with good work from the Cam Armstrong a Penalty Corner was awarded. The ball was duly dispatched high into the roof of the goal by Robin Cooper. 2-1 Wilmslow and on the ascendancy.
This seemed to spur the visitors on for a comeback and saw them create chance after chance which Si Pickering in the Wilmslow stood firm against with a string of last ditch saves to keep the home team in the lead. Following a quick break down the right hand side, Chapeltown eventually scored an equaliser with a neatly taken lift into the top near corner. 2-2..all to play for.
Wilmslow again set a high intensity led by the youngsters Armstrong and Davenport creating a chance which fell to David 'Pele' Boddy, again he dispatched with aplomb. 3-2 with three minutes to go.
Wilmslow retained possession for the last few minutes and where awarded a penalty corner with only seconds remaining. It broke down but a rash tackle on Andy Hunt saw a Penalty Stroke given with the whistle gone for full time. Pete Hallinan stood up and took the ball (away from hat trick seeking David Boddy). Unfortunately the visitors GK read it well and made a save in the bottom corner.
3-2 win and up to 7th in the league. Next week brings Newcastle University away.
Consecutive hat-tricks for Bell
Wilmslow Mens 2nd had a comfortable 9-1 win away at Chester, where James Bell scored his second consecutive hat-trick. 3rds stay top of the table after a 1-0 win against Keele University. 4ths lost their first game of the season against top of the table Brooklands 7 and the 5ths move out of the relegation zone with a 2-0 win against Didsbury Northern 7
Crewe Vagrants Ladies 1st 2 Wilmslow Ladies 1st 2
Wilmslow Ladies1st travelled to third-placed Crewe Vagrants, on the back of an excellent victory against Bolton the previous weekend.
Crewe started brightly and within the first 10 minutes had tested keeper Lang in goal. The best defence in the league, which had stood firm last weekend, was breached due to a breakdown in communication, and Crewe were a goal to the good within the first 15 minutes. This seemed to be the wake up call the Wilmslow side needed, and the team soon showed their attaching purpose with a number of close calls. Good work by an attacking unit of E Kelman, Healey and Rachubka resulted in a penalty corner. The corner broke down and new addition Botha comfortably slotted home the rebound to equalise; Wilmslow rewarded for a dominant period of play.
The second half proved to be just as much of an end to end encounter as the first, with both teams breaking effectively. A well won free-hit resulted in an overload in the Wilmslow 'D' and Crewe finally took one of their chances to go back ahead. Wilmslow didn't let their heads go down and continued to hammer the Crewe back line; finally a crucial corner was awarded and man of the match Lily Harrison converted a sweet strike, nutmegging the keeper in the process. A lack of discipline in the team proved costly when H Kelman was on the receiving end of a yellow card; Wilmslow were down to 10 for a nervy 5 minute period. Crewe crashed numerous balls in but couldn't create any clear cut opportunities and the game finished 2-2.
A valuable point away from home and the 1st XI's unbeaten start to the season continues. This leaves them only one point behind leaders Deeside, who suffered their first defeat of the campaign, making for a tasty top of the table lunchtime encounter next weekend at Oakwood Farm.
Wilmslow Ladies 2nds made it a good day for Crewe with a 0-1 home defeat against Crewe Vagrants 2nd. This was the first defeat Wilmslow 2nds have suffered in 32 games!
Ladies 3rds won 4-2 away to Oxton 2nds and Ladies 4th won 5-0 at home to Sandbach 2nd.
Match report by Steve Kinsella.
Tags: