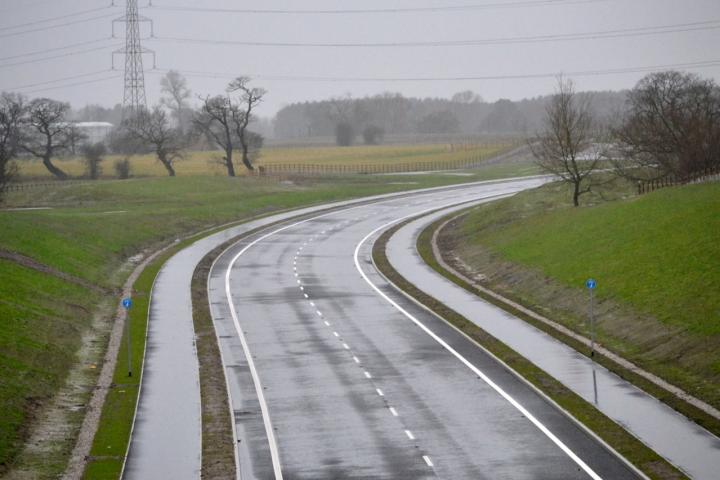 Following the recent fatal accident on the Alderley Edge Bypass local councillors are proposing a reduction of the speed limit on this stretch of road.
Speaking at the Parish Council meeting on Monday, 13th November, Councillor Craig Browne said "I first discussed this issue with Cheshire East Highways over 12 months ago but in the light of the most recent fatalities I have decided to revisit this and have held discussions with representatives from both the police and Cheshire East Highways as well as neighbouring ward councillors. Many people may not be aware but the bypass actually goes through three different Cheshire East wards - obviously Alderley Edge is one, the others being Wilmslow West & Chorley and Chelford, Nether Alderley comes under Chelford."
"The other ward councillors, I am pleased to say, have expressed their support for a speed limit reduction to 50mph and the chief highways officer has indicated that this is both reasonable and feasible. However, we have all been asked to bring this proposal back to our prospective parish councils for further discussion and feedback."
Having read the comments on alderleyedge.com, Verity Williams attended the meeting to comment on the proposals.
She said "It worries that the immediate response is always to lower speeds because I think when you talk about always reducing driving to the lowest common denominator you're not necessarily making roads safer. What I've noticed in the roads around here, especially the roads where there are national speed limits, is there are very few speed limits signs."
Verity continued "I wonder because people don't realise it's the national speed limit they frequently drive between 30mph and 40mph on these stretches of road which will inevitably encourage drivers to do dangerous overtakes and they're often winding country roads with few places for safe overtakes. So what I would wonder maybe a better initial response is to actually to put speed limit signs up and around so people can see what the speed is so then people may potentially drive at the speed that the road is, which discourages people to need to do overtakes because people are driving at the speed they are expected to drive at.
"The single lane bypass doesn't necessarily need to be 50mph it just needs people to do the speed that its set to be and then people are less likely to do dangerous overtakes as they frustrated by people not maintaining the correct speed."
Councillor Rachael Grantham responded "Whilst I support making the speed limit lower on that particular stretch I think signage is very important."
Councillors also discussed the possibility of installing awareness signs displaying how many serious and fatal accidents have occurred on this stretch of road, highlighting the fact that it is a single carriageway and introducing solid white lines in the middle of the road to indicate no overtaking - ideas which Councillor Browne will feedback to Cheshire East Highways.
Councillor Browne confirmed that the investigation into the causes of the recent accident is still ongoing.
Verity Williams responded "Police are trained to look into this and determine what are the safe conditions of a road. Obviously when there is a death people want to show their empathy and show that they don't want it to happen again but equally I do feel it does need to be responded to based on a factual situation. Also it's a very long stretch of road and if you are stuck behind someone who is not doing the speed limit and you've got solid white lines then you are just kind of penalising other drivers.
"An expert for Cheshire East should be looking into it rather, than emotional responses, determining what the reaction is."
She added "It would be interesting to see what the average speed on the bypass is currently because I was on it this morning and it certainly wasn't 60mph, it was between 40 and 50mph so again it goes back to actually accessing what the cause of the accidents are and looking at the current behaviour on the bypass to see what would be something that would make it safer. My experience of the bypass is that you very rarely travel at 60mph so if the cars are already doing 50mph on average and there are still accidents what is reducing the speed limit to 50mph actually going to achieve?"
Councillor Browne responded "Can I give you some assurance that any action that is taken will be based on a thorough assessment, firstly on the course of this accident, but also whilst I've said the three ward councillors are broadly supportive of introducing some change, ultimately that will be based on not three lay people but the professional work carried out by both highways officers who are qualified and of course the police as well."
What do you think about lowering the speed limit on the Alderley Edge bypass to 50mph? Are there any other changes you would like to see happen on this stretch of road? Share your views via the comment box below.
Tags: