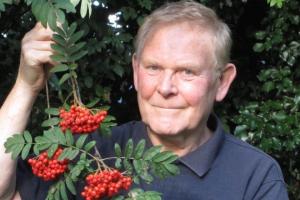 Chris Baines, who is regarded as one of the UK's leading environmentalist's will be giving a lecture on "Wildlife Gardening and the Wider Green Landscape" at the Wilmslow Guild on Friday, 24th November, at 7.30pm.
The talk is being organised by Transition Wilmslow, a local community group which is part of a world-wide network of local people committed to building sustainable communities.
Jean Hill from Transition Wilmslow says "This talk will appeal to gardeners but also to birdwatchers and nature lovers wishing to encourage birds and wildlife into their gardens. Small or large garden, new or old, or just a bit of land you want to do something with, Chris will have some good advice on what to do to make your space more welcoming to nature.
Chris first promoted the idea of wildlife gardening on BBC Gardeners' World as long ago at 1979. He created the very first wildlife garden at Chelsea Flower Show in 1985.
Jean added "Chris is also keen to stress the importance of other green spaces such as the trees and hedges which line our roads and our parks', children's play areas, playing fields. These he says play an important role in creating wildlife corridors for plants and animals and green links/walkways to nearby open spaces and countryside. He also strongly believes that gardens and being close to nature is good for our physical and mental health, with research showing that it improves recovery times when we are ill and reduces stress."
Chris has been a high-profile champion of urban ecology, wildlife gardening and the importance of green spaces in our towns and cities for more than 40 years. He is national vice president of the Royal Society of Wildlife Trusts and has received both The Sir Peter Scott lifetime achievement award RSPB annual medal for his contribution to conservation and sustainability.
Tickets Priced £8 can be obtained in person from Wilmslow Guild, 01625 523903 or via the Transition Wilmslow website.