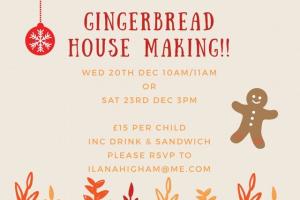 Promotional Feature
Together with 'Festive Foodies', our Gingerbread Kit making friends, we are hosting a number of activity parties in the upcoming Christmas holidays.
The children will each construct and decorate their own gingerbread house with sweeties and homemade icing to "cement" the house together and make it their own special masterpiece to take home with them.
Tickets are priced at £15 per child, which includes the gingerbread house activity, a drink, a sandwich and an apron.
It is advised that smaller children have a parent present at the party to assist them with their creation.
Places are limited to 20 children at each session:
Wed 20th Dec 10am
Wed 20th Dec 11am
Sat 23rd Dec 3pm
To book please contact Ilana on 07779289301 or ilanahigham@me.com. Payment can be taken over the phone.
Tags: