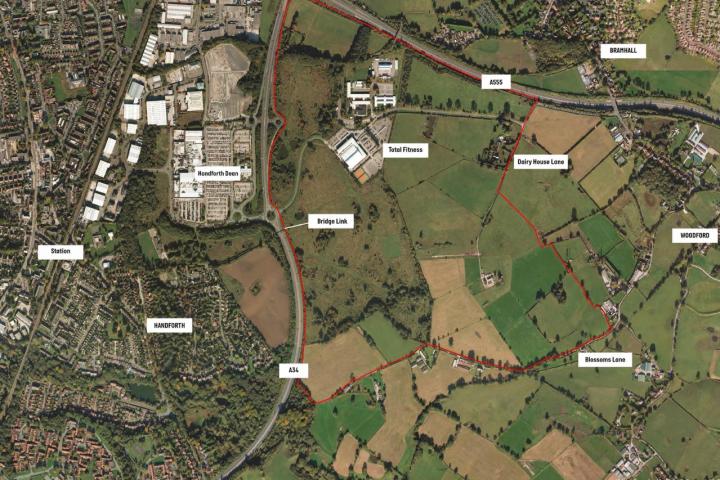 Handforth Parish Council has objected to Cheshire East Council's proposals for a new planning levy, which they say are not reflective of the local market and would result in them losing £2m.
Cheshire East Council is planning to introduce the Community Infrastructure Levy (CIL) which would be payable once new developments start construction and is calculated per square metre of eligible floor space. The funds raised would be used to help fund new community facilities and infrastructure - such as roads, schools and medical facilities.
The CIL allows for a portion of monies raised to be portioned off for local neighbourhood spend. Where Neighbourhood Plans are in place this would represent 25% and where there is no Neighbourhood Plan it would be 15%, or a maximum of £100 per existing dwelling, to be spent on local priorities.
These monies can be spent, by Parish and Town Councils, on items that 'support the development of the area' and would represent a very important source of funding to invest in the local area.
However Cheshire East is proposing a zero rate for the North Cheshire Growth Village which would mean Handforth Parish Council would see no benefit in relation to this development from this new planning charge.
Whilst Handforth Parish Council do not oppose the introduction of CIL they strongly object to the zero rating for the North Cheshire Growth Village and appointed their own consultants GVA to challenge Cheshire East's consultants' (Keppie Massie) findings.
A spokesperson for Handforth Parish Council said "The methodology used by Cheshire East Council is inconsistent and applies arbitrary CIL rates across the borough. There is a major discrepancy between the draft CIL charging rate of site LPS34 (land between Sagars Road and Clay Lane) at £168.00/m2 and LPS33 (North Cheshire Growth Village) at £0/m2 (sites less than 1 mile apart).There is a difference in house prices across Cheshire East (especially between North and South), the Keppie Massie report has generalised these sales prices and produced an anomalous low value in the North of the Borough including Handforth. We would recommend a flat charge across the borough as has been applied in Cheshire West and Chester (which has been uniformly rated at £110 per square metre)."
Keppie Massie also conducted the viability studies for Cheshire West and Chester where a uniform CIL charge is being across the borough, whilst Cheshire East are proposing to adopt five charging zones.
The spokesperson for Handforth Parish Council added "There is a significant infrastructure shortfall in Handforth which will only increase with the scale of development proposed in the local plan. The introduction of a flat rate as described above (and implemented in Cheshire West and Chester) would assist in making up that shortfall. There are very few infrastructure needs identified for Handforth in Cheshire East Councils published Draft Regulation 123 list and whilst these infrastructure needs may not have been identified by CEC, they have been thoroughly identified by the residents of Handforth, these needs have formed a large part of the final draft neighbourhood plan, which has been approved for and is currently undergoing statutory regulation 14 consultation."
Following the article published on Wilmslow.co.uk in October ('Handforth Parish Council says they'll lose £2m if new planning charges go ahead'), Cllr Ainsley Arnold, Cabinet Portfolio Holder for Housing & Planning, wrote to Handforth Parish Council saying "In the case of the North Cheshire Growth Village, our consultants have reviewed appropriate and available evidence and planning policy set out in the Local Plan Strategy.
"Their advice that the site is not sufficiently viable to support a CIL charge at this time, taking into account that the development of the site includes significant infrastructure costs, either via S.106 agreements (at a cost of over £18,000 per dwelling) or through other direct infrastructure provision on site. As such, no money for infrastructure has been 'lost' as the article suggests, rather it is proposed to be delivered in the way described."
However, HPC's consultants GVA concluded that values have been underestimated for Handforth and that Handforth generally can and should have a CIL charge above zero.
GVA stated "The £0 CIL assumption for LPS33 is currently being skewed by value and cost assumptions generally but more significantly by unsubstantiated abnormal costs. These costs, included without evidence, result in conclusions around lack of viability. Given the significance of these assumptions on the overall CIL conclusions drawn, they should at best be further evidenced and treated as sensitivities. Given they are uncertain and not fixes or based on definitive information, they should not be the deciding factor in the ability of the site to generate a CIL receipt."