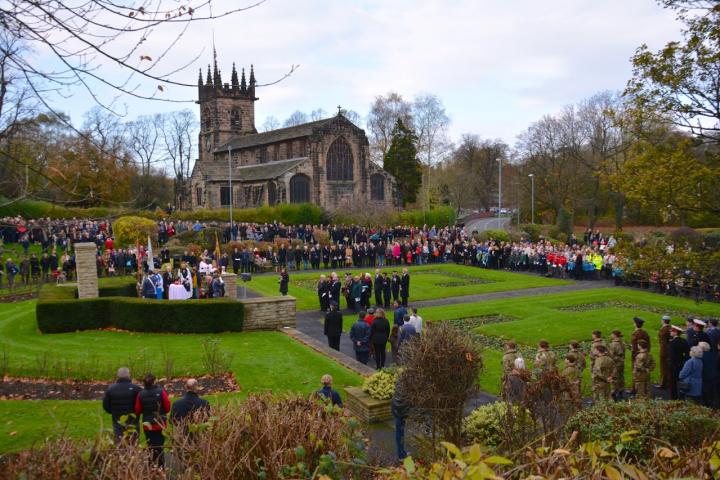 Both Wilmslow and Handforth will mark Remembrance Day with a parade and church service on Sunday, 12th November.
Those participating in the Wilmslow Remembrance Day Parade will assemble outside the Royal British Legion on Grove Avenue at around 9.15am.
Under the control of Parade Marshall Chris MacMurdock the parade will form up along Grove Avenue with civic dignitaries lining up directly behind the Royal British Legion. They will be joined by army cadets, air cadets, scouts, cubs, beavers, guides, brownies and rainbows.
The Parade will leave Grove Avenue at 9.30am prompt and proceed down Grove Street and Church street to St Bartholomew's Church for the 10am service.
At around 10.50am the service in the church will end and everyone will make their way across the road to the Memorial Gardens for the laying of wreaths at 11am.
After the wreath laying service the parade will reform on Chancel Lane and parade back to Grove Avenue under the Parade Marshall's instruction.
This year the Salute will be taken on Grove Street as the parade returns to Grove Avenue.
In Handforth the Parade will start to gather at Handforth Youth Centre on Old Road from 9.15am. It will then start to form up in order of march from 9.30am - coordinated by the Parade Sergeant.
The Parade will set off from Handforth Youth Centre at 9.35am marching along Old Road and turning right onto Station Road. They will then proceed along Wilmslow Road to St Chads Church where the Handforth Remembrance Service will take place from 10am until 10.40am.
Afterwards the Parade will reform and march along Wilmslow Road to the Handforth War Memorial for prayers and a wreath laying service from 10.55am to 11.15am, during which there will be a minutes silence at 11am. The Parade will then reform on Wilmslow Road for the return march to Handforth Youth Centre.