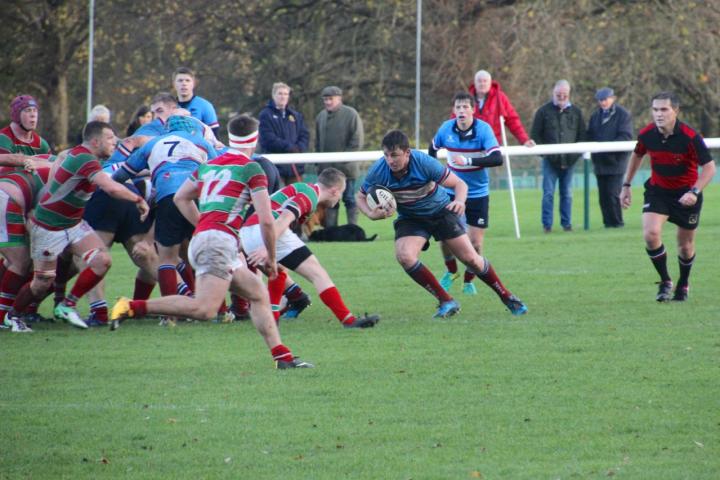 Saturday 4th. November 017
North 1 West
Warrington 29 – 17 Wilmslow
Away to in form Warrington always looked a hard call for the Wolves. They would have had to raise their game from recent performances by several notches if they were going to come away with anything from the Warrington Sports Club ground at Walton Lea Road. In the event, Warrington scored five tries, all of them emanating from their own half of the field and all of them by their quick silver backs. In response Wilmslow scored three, in contrast all of them hard earned from relatively close in and two of them from their forwards. So it ended 29 - 17 and really nobody could complain that the better side on the day hadn't prevailed.
And yet, the Wolves overall had more than a 50% share of territory and possession. Their forwards just about edged the battle up front but behind the scrum they just didn't have the craft, the pace and the accuracy to outdo their opponents. There was an element of naivety about their play which was to cost them dearly. You just can't afford to miss tackles in midfield against the likes of Warrington's Kieran Hughes, Steve Pilkington, Tom Arnold and Nathan Beesley and nor can you put hopeful punts up the field straight into their arms and expect to get away with it. Of course, there's a place for field kicking but it has to be accurate otherwise it just amounts to free ball for your opponents, whatever the level of the game. Retaining possession of the ball is 'king' in rugby union so dropping it and kicking it away carelessly will inevitably cost you against the better sides. Additionally, several good positions were squandered when ball carriers got themselves isolated leading to turnover ball for the home side. Today's game is all about ball retention and patience until the opportunities open up.
The Wolves started down the slope, the wind behind them, with several promising sorties until Warrington were awarded a scrum close to half way. Their No. 8 Sean Callendar broke from the base of a scrum, Kieran Hughes took it on, slipped a tackle as he continued to do all afternoon, and passed to their flyer on the right wing Nathan Beesley and that was the opening score after just four minutes play. The second followed soon after when Hughes again shredded the Wolves defensive line to weave his way up field before releasing his co-centre Steve Pilkington. Danger threatened every time the Warrington backs had possession and a long floated pass from right to left opened up the way for try number three from Kieran Hughes himself. When confidence is high, plays like this just tend to come off.
In reply the Wolves had shown that they could also play a bit with a move from right to left which ended with centre Ethan Harding and left winger James Coulthurst putting debutant full back Elliot Rowe in.
One of the bright spots of the afternoon for the Wolves was the competent showing by Elliot Rowe at full back, who looked ready to step up from 2nd. team rugby, whether it be at 15 or at his usual No. 10 position. He seemed always to have time when the ball came his way and he possesses a prodigious boot which, when he gets it right, produces the kind of field kicking you want into open positions. If he's going to become a regular, then this is an attribute that the Wolves should aim to benefit from.
The Wolves second try came from a period of concerted pressure which ended with prop Jordan Ayrey eventually getting the touchdown. Several good positions had come to naught and been effectively defended by the home side, wheeling the scrum when it had been lost fairly or unfairly, depending on your point of view. When Warrington then got themselves off side at the half time restart, Bob MacCallum prodded the ball into 'catch and drive' territory and after several attempts, Alex Taylor forced his way over. MacCallum converted and at 19-17, it was game on but it was also as good as it was going to get for the Wolves.
Arguably, they were the architects of their own misfortune. Wrong options, mishandling, poor kicking and turnovers handed possession to the home side just too often. Kieran Hughes, meanwhile, was the lynch pin in the Warrington centre, controlling everything and just having a field day. Most of the play in the second half was nearer to the Wilmslow try line than Warrington's. The Wolves were fortunate that Warrington scrum half Ben Hockenhull should miss two not entirely straight forward but still kickable penalties.
Opportunities for the Wolves were sparse and all ended abruptly when the ball was turned over or lost in the handful of promising positions, they managed to create. Most of Warrington's best possession came from these turnovers and from misdirected kicks by the Wolves, which enabled Hughes and his scrum half Hockenhull to get the two second half scores which put them out of sight.
Even then, the Wolves managed to finish on the Warrington line. There was a good break from Caleb Loomans, back from injury and on as a substitute, which went very close. Warrington were forced to infringe several times, enabling MacCallum to set up a pair of late catch and drive opportunities but neither of them could be finished off. Credit had to be given to the home side's defence for denying the Wolves a score, which would have given them two bonus league points.
In truth, there wasn't all that much in it but as the Wolves' Ben Day, missing from the fray as a result of injury from the last two weeks, said afterwards: 'Warrington were just a bit more clinical when they had the chances. At times, they were living off scraps, when we had them under pressure, but these scraps were enough and all that they needed.' He can say that again!
Photo: Wolves No. 8 Alex Taylor takes it to the opposition.
Match report by David Pike.
Tags: