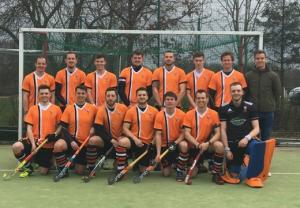 Wilmslow Ladies 1st XI 3 Urmston Ladies 1st XI 1
Wilmslow Ladies 1st had another good day in the office with a 3-1 win over Urmston 1st at Styal. The home side went into an early lead from a penalty corner well taken by Emilie Kelman.
They continued to press and Urmston had problems containing the midfield menace of Charlie Platts and Annika Hall. Following a pacey drive by Hannah Coulson, Becca Healey stretched to deflect the ball into the net for Wilmslow's second. Up until now the home defence had held firm but an attack by the visitors resulted in an illegal stop and the award of a penalty stroke. Goalie, Cat Lang guessed right and dived left but the shot was too powerful. Half time came with the score 2-1.
In the second half Wilmslow started with their usual drowsy period before wakening up with some more purposeful attacking play. Di Law was feisty as ever but it was the energetic Hannah Coulson who capped an excellent match with the third goal from a well struck shot. Shortly after captain Charlotte Kelman almost made it four with a powerful shot from a well-worked penalty corner.
Wilmslow cemented their second place in the league and seem this year to be determined not to allow slip ups against mid table opposition.
Wilmslow Ladies 2nds dropped their first points of the season by being held to a 1-1 draw by Runcorn 1st in a bad-tempered match, however they still retain top slot in the league.
Ladies 3rds had a narrow 1-0 win against Whitchurch 1sts and Ladies 4ths travelled to Chester and retained second place in the league with 3-1 win.
Hallinan hattrick shoots down Neston
Neston 1st XI 2 Wilmslow 1st XI 6
On Saturday Wilmlsow Mens 1sts travelled to Neston 1s in a '6 point' clash. With lessons learnt from last weeks loss, Wilmslow started brightly again with a very high intensity set by young guns Tom Davenport, Cam Armstrong and Pete Hallinan. Camped in the Neston half for the first 10 minutes, Wilmslow took the lead with u15 star Armstrong holding up the ball and laying it off under extreme pressure for Hallinan to expertly slot the ball home.
The pressure continued and soon after Hallinan drew a foul after a mazy run from the Neston GK to be rewarded a Penalty Stroke which he dispatched into the top right corner himself. 2-0 up and all going well.
Neston then threw caution to the wind which saw a extended period of pressure and a penalty corner awarded after a change of decision by the umpire. Neston scored from a good routine to make it 2-1 at half time.
Neston started brightly and treated the Wilmslow defence, which stood firm, led by new defensive recruit Sam Dawson. Wilmslow were awarded a penalty corner after a flowing move which saw Matt Westbrook power home a trademark drag flick, 3-1.
From then push back Wilmslow held firm and turnover the ball within seconds, fed the ball into the high pocket followed by a strong baseline run and pass to the other u15 star Davenport at the top of the D. Tom turned and fed a precise pass to Andy Hunt who turned and drove the ball into the corner of the Neston goal, 4-1.
Neston poured forward and wave after wave of attack followed. The Wilmslow defence again held firm until a Neston forward broke free on his reverse and bobbled the ball through an the onrushing keeper's
legs, 4-2.
After a bit of indiscipline by the Neston players Wilmslow capitalised, first with a Pete Hallinan spin and then a pass to Matt Westbrook who fed a long ball into the D for Hallinan to deflect home, 5-2.
Seconds after the restart the ball was intercepted from Neston's no.98, by Andy Hunt who drove forward and hit a ferocious shot to complete the victory 6-2.
A much improved performance, excellent attitude and discipline which will be a key point in Wilmslow's climb up the table. Standout performance from captain fantastic Ben James who covered every inch of the pitch during a 70mins stint!
Mens 2nds had a comfortable win against struggling Crewe Vagrants 2nd, 5-1 with goals from Eden, Bonner and Bell.
Mens 3rd beat Whitchurch 1sts 3-2 to retain top spot in their league
Mens 4th were held to a 2-2 draw by Bowdon 7ths and Mens 5ths drew 1-1 with Bowdon 8ths
Overall a satisfactory weekend for Wilmslow Hockey Club with six wins and three draws.
Match report by Steve Kinsella.
Tags: