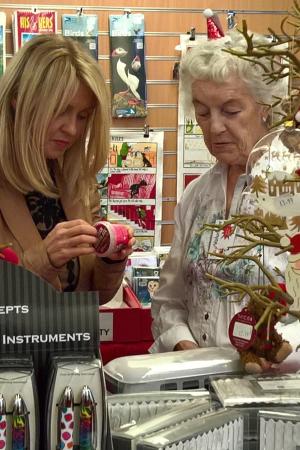 The doors have been officially opened on the Combined Charities Christmas Card Shop in Wilmslow by MP Esther McVey.
Now in its 46th year and having raised over £5million the shops are back open for business following a visit by the Wilmslow MP on Saturday, 28th October.
Esther McVey was greeted at the Wilmslow shop above the library by Sheila Hallas MBE, who first came up with the idea of the shops and has been instrumental in its on-going success.
After chatting to some of the many volunteers who will help to man the shops over the coming weeks, Esther took her time to look at the selection of gifts and Christmas cards, representing over 36 different charities. She was especially pleased to learn that 100% of the sale of the cards goes back to the charities involved.
Ms Mcvey said "I was absolutely delighted to visit the Charity Card Shop in Wilmslow and to hear about the fantastic work they do at a number of venues throughout the area. The idea that all the money goes to the charities and that over £5m has been raised for those charities is amazing. It was also lovely to meet some of the many volunteers- a number were dressed for the occasion in fetching, festive headgear and novelty glasses which definitely added to the occasion. I was also pleased to make a start on my Christmas shopping and can confirm that there will be some items under the McVey tree this year purchased in the shop!"
The pop up shops will remain open at Wilmslow Library until Saturday, 9th December. The opening times along with a full list of which charities are featured in the shop can be found on the website.