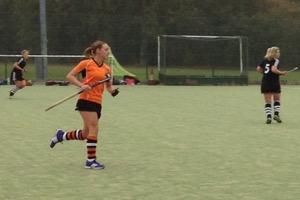 Wilmslow Ladies 1st v Triton Ladies 1st 2-0
The home side started brightly enough with intelligent midfield play from Annika Hall and Ruth Walters forcing Triton on the defensive. Eventually pressure told and an effort from the ever-feisty Di Law fell to Emilie Kelman to score. Later in the first half Emilie became provider when a good move in the dee gave Lindsay Rachubka a free shot at goal. Wilmslow went in at half time two goals to the good and threatening many more.
Unfortunately, in spite of having the majority of the possession in the second half Wilmslow slackened off and produced what can only be described as a lazy performance. Defensively Charlotte and Hannah Kelman, Keira Fleming and Helen Hunt were sound and rarely troubled and Cat Lang in goal was only brought into the game for one save. Wilmslow attacks kept on foundering on the last pass with a lack of intensity which will not serve well if promotion is achieved next season.
Later in the game too many long passes broke up the midfield rhythm. On the positive side newcomer Hannah Coulson put in a lively performance.
With league leaders Deeside winning again Wilmslow have to be content with second place but will have to play more convincingly against mid-table opposition.
Wilmslow still not realising potential
Preston 2nd v Wilmslow 1st 5-2
Wilmslow Mens 1st team travelled to Preston in a North Div 1 league match and set a massive intensity from the start, Preston could not deal with the movement and link up play of the 15yrs old Tom Davenport and Cam Armstrong up front. Wave after wave of orange pressure continued but ultimately with no movement to the score board. Then a speculative aerial by a Preston defender to relieve pressure hit the receiving Preston players body on the Wilmslow 25yrd line. As the Wilmslow defence unwisely stopped for the free hit play continued and a two against one on the Wilmslow keeper led to a goal against the run of play.
Wilmslow resumed the pressure and eventually Steve Edmonds slotted the ball home to make it 1-1. Wilmslow carried on the attack and had a penalty corner on the half time whistle which was run down well by the brave Preston runner.
Wilmslow started the second half slowly and quickly conceded a poor goal to go 2-1 down. Wilmslow rallied but a foul by Chris Berkon on the Preston player through 1 on 1 on thy goal led to a penalty stroke which was converted to make it 3-1.
2nd Wilmslow goal was scored by Pete Hallinan who finished off a lovely passage of passing play, slotted in with a diving deflection at the back post.
The rest of the game saw some good play but was overshadowed by poor discipline by the Wilmslow side which ultimately led to Wilmslow conceded two more goals.
Stand out players were Bas Steffans on an excellent return to the side and Jack Wright who improves from game to game. The rest of the game saw some good play but was overshadowed by poor discipline by the Wilmslow side which ultimately led to a 5-2 loss.
Next week brings a massive bottom of the table clash which will hopefully see a much better attitude by the Wilmslow players.
Match report by Steve Kinsella.
Tags: