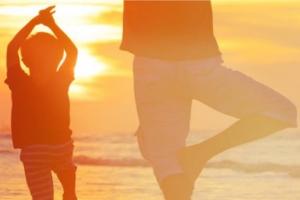 Promotional Feature
Former Wilmslow resident Sue Ducros is passionate about giving the gift of yoga to children, she believes that yoga is an instruction manual for them to live their best life.
Sue now lives in Ottawa, Canada where she has combined her two big loves – children and yoga. Sue will return to Wilmslow next month to deliver her first UK Radiant Child Yoga workshop 'Learn to Teach Children Yoga'.
Commenting on the impact of children's yoga, Sue said: Mental wellbeing in children is a hot topic, especially today where children are living with the demands of digital interaction and a sense of urgency as their world moves at an ever increasing pace. There is a huge need for downtime, simple quietening of the mind and body. This allows children to integrate their daily experiences, keep what works for them and shed the rest. Feeling good and functioning well are so important in the development of a child to ensure they go on to lead fulfilled lives, as an individual and a member of society. I truly believe that yoga keeps children happy, healthy and fully alive."
Having taught the yoga programme across the US and Canada, Sue added: "Many of my UK friends have asked me to run a workshop in the UK, and what better place to start than in my old home town of Wilmslow."
Radiant Child Yoga is an innovative training programme designed for anyone interested in teaching yoga to children of all ages. One of the first child yoga training programmes worldwide, it provides enlightening results for ALL children, enriching mental and physical health.
The programme includes adaptations for those with ADD, ADHD, Autism and Downs Syndrome. The programme is open to teachers, therapists, parents, grannies and nannies - simply anyone who wishes to share the benefits of yoga with children.
The 3 day workshop will be held in Wilmslow on the 10 -12 November 2017.
No previous yoga experience is required, just a love for children and wellness. If you think this may be of interest to you or someone you know, please get in touch for full details or with any questions, by email to sueducros@rogers.com or call Nicola on 01625 724062.