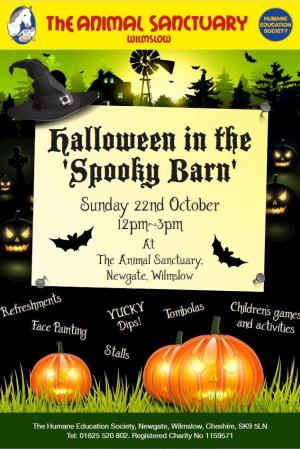 Updated - 5pm Friday, 20th October
Volunteer Nicola Foster said "Sadly we have had to take the decision to cancel the Halloween event on Sunday. After all the rain the last few days the fields are not suitable for using for parking today, and we are forecast another 12 hours heavy rain before the event. On top of that with the winds forecast for Sunday it is doubtful we would be able to put the party tent up for refreshments.
"Thank you so much for all the donations of chocolate and bottles - these will all be used at other fundraising events such as the Artisan markets. If you've made cakes for the event, thank you and I hope you and your family will enjoy them. Lastly, thanks to all of you who volunteered your time on the day. Hopefully you will have a lovely quiet Sunday afternoon."
Wilmslow Animal Sanctuary is raising spirits again this Halloween by opening up the doors to their 'Spooky Barn' on the afternoon of Sunday 22nd October for all those who dare enter!
From 12pm til 3pm, friends and families are welcome to bring their 'little witches and wizards' along to enjoy ghoulish games, face painting and yucky dips in the eerie barn... but watch out for those creepy cobwebs and sleeping spiders!
Volunteer Nicola Foster said "Wing of bat and eye of newt refreshments will be served to all ghost chasers who come along. So put on your witch's hat and pick up your broom and come to the sanctuary for a chilling afternoon!"