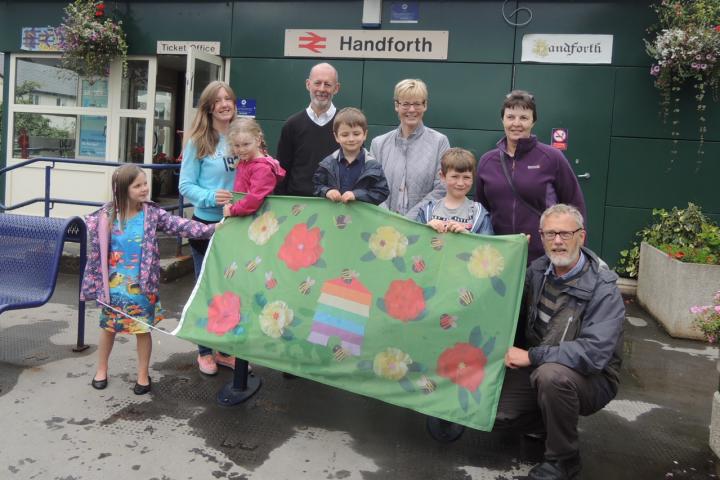 Friends of Handforth Station chose 'Conservation' as the theme for their 21st year and asked local schools to design a flag to fly at the station.
Rainbow Pre-school, where 2 to 4 year olds had provided two earlier works for display at the station, produced the chosen design.
Jane Greenlees local artist and Preschool Practitioner explained "We talked about conservation to the children and they chose bees as an important part of this. They created flowers and bees, decided these needed wings and added the stripes to them. They had previously designed a Rainbow flag for the station and wanted to include this again as a sign of hope and added a rainbow coloured bee hive."
Mike Bishop, founder of Friends of Handforth Station, said "We were thrilled with the design Rainbow designed, but needed to find funds to have it made. Hopefully more groups will join us in promoting conservation. We have previously worked with a number of local companies who have sponsored our station enhancements and this time approached Moore Secure Alarms who were already working with others to improve the village, both now and into the future. We were delighted that they agreed to fund the flag."
Photo : (From left to right) Hollie, Daisie-Mae, Harry and Lucas. Adults from left staff from Rainbow -Toni, Jane, Fiona, Peter Moore and Andrew Backhouse kneeling.