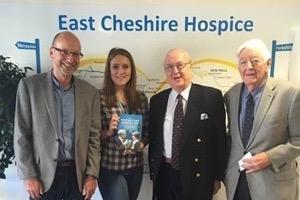 Retired politician Sir Nicholas Winterton will be giving an insight into Westminster life at a charity lunch in Wilmslow next month.
The former Conservative MP for Macclesfield is the guest speaker at the annual lunch and Christmas Fayre of the Wilmslow Support Group for East Cheshire Hospice at the Deanswater Hotel on Thursday, 9th November.
Sir Nicholas will be discussing The Wintertons Unmuzzled, a book written by his daughter Sarah Winterton which charts the political life of her parents.
Mum Ann was the MP for Congleton, making the Wintertons the Conservatives' first husband and wife team at Westminster. They were also the longest serving couple in the history of the House of Commons with a combined service of 66 years.
Their colourful careers covered four prime ministers, two recessions and various scandals.
Ned Spencer, who has recently set up the Wilmslow Support Group of East Cheshire Hospice,"The Wilmslow Support Group has been working for about 12 months now to raise money for East Cheshire Hospice.
"Events have included a Bridge Drive, a sponsored walk and a male voice choir concert!
"Our next event is a lunch and Christmas Fayre. We are delighted that Sir Nicholas Winterton has agreed to be our guest speaker. Tickets are nearly all sold – so be quick!"
Coffee will be served from 11am followed by lunch at 12.30pm.
Tickets are £25 and all proceeds go to East Cheshire Hospice. To book tickets email wsgech@gmail.com, phone Ruth Stones on 07929 907382 or Lisa Ball at the Hospice on 01625 664993.
Photo: From left, Wilmslow Support Group organiser Chris Manley, Lisa Ball, Sir Nicholas Winterton and Sandy Ferguson from WSG.