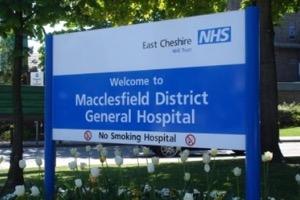 A new set of payment options for parking at Macclesfield District General Hospital is set to be introduced this month which the East Cheshire NHS Trust says will simplify the payment options.
However, for those wishing to stay between 30 minutes and two hours the cost will increase by nearly 60% from £2.20 (the rate is currently £2.20 for up to two hours) to £3.50.
With effect from Friday, October 20th, the amount motorists pay to park at the site will be simplified to four tariffs, which will apply 24 hours per day, seven days per week.
A stay of up to 30 minutes will be free, parking for between 30 minutes and four hours will be £3.50, and a stay of between four hours and 12 hours will be charged at £6. Meanwhile, frequent visitors to the hospital can take advantage of a seven-day ticket priced at £12.
Under the new tariffs, the length of free time has been extended by ten minutes and the charge for up to four hours parking is almost £1 cheaper than the existing tariff.
Parking for disabled motorists will remain free of charge but Blue Badge holders must ensure their vehicle is registered with the trust, as per existing arrangements.
Mark Ogden is Director of Finance for East Cheshire NHS Trust, which runs Macclesfield Hospital. He explained: "These new simpler tariffs should be easier to follow for our patients and visitors and are more consistent with charges at other NHS trusts.
"While hospital parking charges will always prove a contentious issue, I can assure patients and visitors that 100% of the income from parking tariffs is retained by the trust and therefore ultimately reinvested in the vital services we provide."
The new tariffs do not involve any changes to the camera-based parking management system in operation at the Macclesfield site. As is already the case, parking can be paid for up until midnight on the day of a visit, so anyone running late or unsure how long an appointment will take can pay for their parking on exit.
Tags: