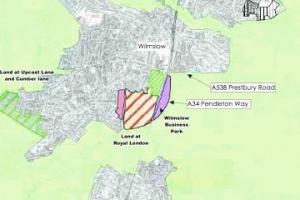 Plans have been approved to enable a new access road to be created off the A34 Wilmslow Bypass at Pendleton Way.
The access, for vehicles only, is being proposed in connection with the development of a new business park on land west of the bypass between the Wilmslow High School roundabout and Harden Park roundabout.
The parcel of land, bound by Holly Road North to the north, the A34 to the east / south and a railway line to the west has been identified in the Cheshire East Local Plan for the development of Wilmslow Business Park.
The Local Plan promotes the site for delivering up to 6.3 ha of employment land and providing around 25,000 square metres of employment space.
Mr & Mrs Sims have been granted planning permission for the junction and the first section of the road serving the site, with a left in, left out arrangement on Pendleton Way.
No details of any proposals for the site have been put forward at this stage.
Wilmslow Town Council recommend refusal of this application on the grounds of being inappropriate development whilst it remains in the Greenbelt.
However, the Officer's Report stated "Part of the application site strays onto the adopted highway on the A34 and this area remains within the Green belt. The proposal will not change the nature of this area from an openness perspective and therefore complies with national and local Green Belt policy."
The plans can be viewed on the Cheshire East Council website by searching for planning reference 17/2008M.
Tags: