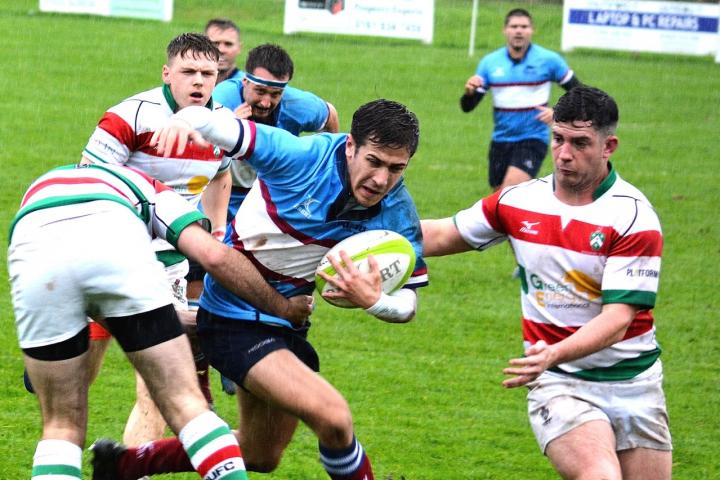 Saturday 7th. October 2017 North 1 West
Wilmslow 17 – 24 Stockport
In the end, this eagerly awaited local derby match went the way of the side which made the fewest errors and which was a bit more clinical in finishing off their opportunities. On another day, probably a drier one, it could just as easily have gone the way of the home side. As a spectacle for the by far largest crowd of the season, however, it was disappointing fare. Six tries were scored, three apiece, all of them emanating from lineouts in 'catch and drive' positions.
Neither side ever had things their own way for long. Wilmslow probably shaded the scrums, both sides lost a handful of throws in the lineout but Stockport were just that bit more secure in possession. As one Wilmslow player remarked afterwards, 'the sole difference between the two sides amounted to the influence exerted by Stockport's big player/coach at No. 8, the former Sale Shark, Dean Schofield. Stockport had their noses in front on the scoreboard for most of the game so the onus was always on the Wolves to find a way of breaking down the Stockport defence, when they had possession of the ball but Schofield and his mates made sure that Wilmslow's ration of useable possession was kept under control. Neither side though looked capable of scoring from open play on a wet greasy afternoon, which made ball handling difficult but then Stockport didn't have to. Error free containment suited them fine!
It was also a difficult afternoon for the young North West Federation referee in charge. Ben Moore clearly has the potential to rise up the refereeing ranks but to be put in charge of this match with so many old heads on both sides was always going to be a test for him. Young referees without much first hand playing experience have to compensate by relying strictly on a thorough knowledge of the law book in making their decisions, when sometimes a bit more empathy with the players would produce better dividends. They can also be prey to the 'savvy' of canny older players, sometimes with twenty years plus experience behind them. Referee Moore was decisive throughout and didn't appear to favour one side or the other but you couldn't help thinking that in a niggly local derby, he was also being manipulated by some of the more experienced exponents of the art. Eight Yellow Cards were produced, five against Stockport and three against Wilmslow, and both captains were lectured more than once as to the conduct of their players. The consequence was a frustrating stop start game which just didn't flow and which didn't really provide satisfaction for players and spectators alike. The right side probably came out on top but I don't doubt that he will have learnt from the experience and will become all the better as an adjudicator for it.
Stockport were first to trouble the man on the manually controlled scoreboard, nothing electronic or fancy at The Memorial Ground. No.10 Tom Eaton, formerly of Macclesfield, kicked his side into 'catch and drive' territory within ten minutes and
when referee Moore decided that the drive had been illegally stopped, he awarded them a penalty try. Stockport remained in the driving seat for another ten minutes or so, being denied only by a resolute Wolves defence, until Wilmslow No. 10 Bob MacCallum got them into range with a pair of astute positional kicks. The second one was finished off by a 'catch and drive', and touchdown from No. 8 Alex Taylor. The Wolves now enjoyed fifteen minutes or so of field position and ample
opportunity to get in front. Their cause was helped by Stockport player coach Dean Schofield being Yellow Carded and then being followed to the sin bin by scrum half Dudley Southern. Playing against thirteen, said Rick Jones afterwards, we should have scored at least once. As it was, half time came with the sides tied at 7-7.
Wilmslow had the first opportunity to score in the second half from yet another lineout set up from a penalty. The chance was squandered though and Stockport then worked their way downfield aided by a series of penalty decisions in their favour. Back to a full squad of fifteen, they must have fancied their chances from a pushover but were held up by Wilmslow's scrum and as the game went on this was a department in which the Wolves seemed to hold the upper hand. Stockport settled for three points from Tom Eaton's boot. Another Stockport penalty set up a second 'catch and drive' try for them and a 7-17 advantage with thirty minutes still to go.
Wilmslow though weren't done for and a period of pressure eventually produced a touchdown for Tom Bull. There was still plenty of time left on the clock and it was still either sides game but the Wolves really only had themselves to blame for
spilling so much ball and giving the Stockport forwards the opportunity to rumble on for what became a second penalty try. Paradoxically, it might have been to the Wolves advantage if Stockport had managed to cross the line out on the corners as that would have made the conversion much harder than the simple kick they had from under the posts. The Wolves responded by trying to play their preferred expansive game but the difficulty was that their forwards weren't able to get any
'go forward' up front and consequently when MacCallum & Co. tried to move it out wide, it was always from a static position, leading to a plethora of handling errors. A late surge produced a second touchdown from Bull, emanating from yet another close in lineout but it was just too late to give the Wolves a final chance in the last plays of the game.
Rick Jones just shook his head afterwards. 'Disappointed, I felt that we were the better rugby side, had more to offer than they did but made too many basic errors, which just let them in. Stockport though are a decent side this season and if you don't take your chances and then drop the ball, they'll just close the game down and punish you. We've now got to show that we can be better than this.'
Photo: Will Maslen tries to find a way through.
Match report by David Pike.
Tags: