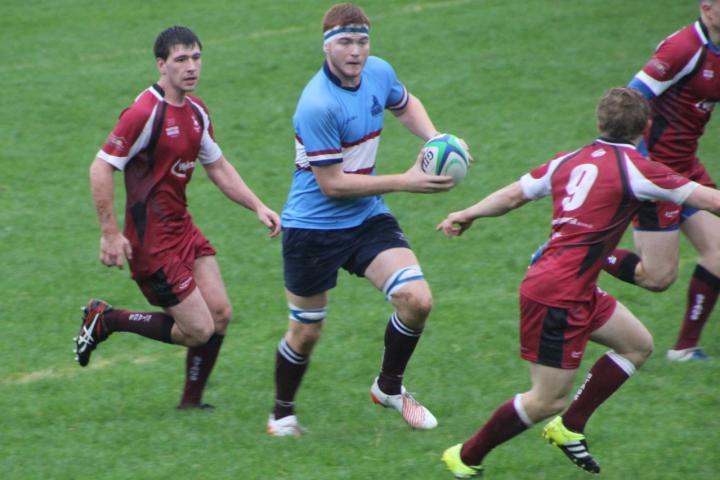 Saturday 30th. September
North 1 West
St. Benedicts 20 – 19 Wilmslow
This was a game which had mugging and banana skin written all over it. After four heavy defeats, the call to arms had gone out in Whitehaven to restore the town's pride. With the end of the summer Rugby league season now in sight, the call was answered by five dual code players, all backs, returning to the Rugby Union fold and with prospects of more to come in the next few weeks. St. Benedicts were now a much stronger side than they had been in recent weeks. It was always going to happen at some stage and it was always just a case of when.
To add to the Wolves discomfort, their coach had crept round the fringes of the Cumbrian fells with dark menacing clouds coming off the Celtic Sea spitting their heavy driving venom down on them. It was pleasantly bright in Whitehaven itself but the heavy rain had left a pitch, which was wet and greasy with some standing water in parts. It was ever thus in West Cumbria.
The Wolves were also missing their captain Bob MacCallum, still getting treatment for his finger injury from last week.
They started well enough. Within ten minutes, a loose ball was picked up by No. 8 Alex Taylor and was passed to the backs. Rick Hughes spotted a gap and ran forty yards to the try line unopposed. This was converted by Conor McMurdock. Ten minutes later, good handling by backs and forwards culminated in a try by McMurdock, which he converted for 14-0.
Thirty minutes in, St. Benedicts capitalised on an unconverted interception try by Steve Woods. This was followed by a Wilmslow penalty to the corner and from the lineout Alex Taylor crossed. The Wolves then got themselves penalised for not releasing in front of their own posts, which enabled Kurt Maudling to land a simple penalty for 19-8 at half time.
It was a different kettle of fish in the second half as the bigger St. Benedicts forwards took charge, particularly in the scrum. It became even harder when second row Tom Bull was yellow carded. The Wolves were then held up driving for the line and then lost the ensuing scrum.
It soon became 19-15 when winger Andrew Middleton crossed for the home side and for the remainder of the game, the Wolves were subject to deep defence in the face of continued pick and drive play. In the end the pressure told as Kristian Wood to the loud plaudits of the home supporters went over in the corner for the winning try.
St. Benedicts at home are now going to be a formidable test for any visiting side.
Match report by Barry Fisher.
Saturday 30th. September 2017
Cotton Traders Championship
Wilmslow Vikings 40 -5 Rossendale
With the Wolves away from home, getting mugged on a Whitehaven banana skin, it was the ideal opportunity to cast an eye over Adam Taher's hitherto unbeaten Vikings team. Wilmslow's second string now lie third in the Championship table and could possibly have been even higher if they hadn't reneged from their fixture at a resurgent Vale of Lune, now just one place above them, earlier in the month because of player unavailability. Word has it that the side possesses a number of promising young players, who are close to pressing for selection to the Wolves.
On the day though, the most influential player on the field by a country mile was their enigmatic captain Adam Taher, certainly not one of the youngsters. His twenty stone chassis and front row position belies an enviable turn of pace, coupled with no little footballing skill and a shrewd rugby brain. Taher helped himself to three of the Vikings' seven tries, was involved in just about everything else that happened on the pitch and also assumed kicking duties when fly half Elliot Rowe looked to have tweaked a hamstring. His third try was a master class of everything he had to offer. The Vikings were awarded a penalty near to halfway, three quarters out to the right. Taher stepped up and instead of plonking the ball into touch as anybody else would have done, he looked around to see what options there were, signalled to his left winger Tom Raynor and planted a cross kick straight into his arms. Raynor was off but his inside scoring pass to No. 13 Pearson didn't go to hand, no matter, Taher was across to collect the loose ball and to bulldoze any opponents out of his way. His team mates really couldn't have asked for anything more from their inspirational captain.
Not far behind him was his hooker, Tommy Wilkinson. Three years ago, when he graduated from colts rugby, he was still a bit of a lightweight in adult rugby and found it tough going. Not now. In the intervening period, he has developed into a real combative presence, a reliable thrower of the ball at the lineout, solid in the scrum and a force around the field. He scored two tries, the first a powerful solo effort from twenty five metres or so which seemed to have the Rossendale defence transfixed and the second a competent touch down from a catch and drive.
The Vikings' other two tries were scored by scrum half Chris Spencer who took full advantage of a second half breach in the Rossendale defence, which was so wide that it resembled the parting of the Red Sea in biblical times, and by Tom Raynor, who was a threat every time the ball came his way. One couldn't help feeling though that he could have had more than just the one touchdown, if he'd really pinned his ears back when opportunity beckoned. Others to stand out on a wet afternoon were No. 8 Jack Masters and the veteran Charlie Levings.
The Vikings though were always the more incisive of the two sides and, whether in the forwards or at half back with Chris Spencer and Elliot Rowe or out wide, looked to have more options. It was a day when everyone on the side contributed at some stage or another.
Clearly there are players in the Vikings, who will grow into authentic first team players and as the season progresses some of them will get their chance at the higher level. For now, team manager Bryn Lewis will want to keep the winning run going. A return to the reformed Cotton Traders Premiership next season is not out of the question but that's a significantly higher level of rugby for these players to come to terms with.
Photo: Second row Charlie Gardiner in possession.
Match report by David Pike.
Tags: